Recreational Marijuana A Reality But Still Hard To Find In Washington
Posted by Marijuana Doctors on 09/30/2014 in Medical Marijuana News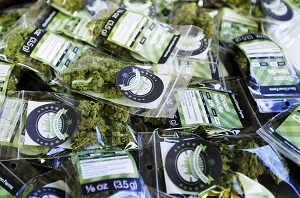 Even though recreational marijuana in Washington went into effect and sales began slightly more than two months ago, it appears that legal cannabis can be hard to come by. Until this past weekend only one cannabis store was open in the city of Seattle and to reach it requires schlepping through industrial parks that are a fair ways away from the city's downtown. And the worst part, you might not even be guaranteed to find any once you get there!
"We're not doing well because we don't have anything to sell," says James Lathrop, the owner of Cannabis City in Seattle. "It's really an insane business."
The state's strict approach to controlling and regulating recreational marijuana growers and retailers has  resulted in only 60 recreational cannabis licenses being granted, and it's very unclear how many of them are currently open and operating. Some owners who have come out publically say that tight regulations and scare supply from growers is making it hard to keep the industry away from the black market and toward paying taxes.
To ease confusion, Mr. Lathrop uses a flag that he flies outside his store to signal to potential customers if he has any of the cities precious legal pot. Last week he only had pre-rolled joints and packages of shake for sale. For experienced or avid smokers this option is not attractive especially at the cost of $45 for a 2-gram joint. Lathrop also unfortunately does not have any cannabis infused edibles available either. While inside Cannabis City, Denver resident Kyle Johnson voiced how he was surprised to see the limited supply at Seattle's only recreational store. "I think Denver is a couple years ahead on the scene,
Johnson told a USA Today reporter, "You come in and they only have one type [strain]. And the prices…the price are a huge thing."
Even with the news of a second recreational store opening this coming weekend, Mr. Lathrop says he is not worried about it poaching or taking any of his customers. According to Lathrop "We're competing on getting the product in the first place."
90 miles north however, at Bellingham's Top Shelf Cannabis, store owner John Evich has no shortage whatsoever and has plenty of recreational cannabis for sale. "We're learning as we go, I've seen nothing but smiles."
Mr. Evich attributes his steady supply to close and strong relationships he has built up with the growing community in the months before his store opened July 8th. His store, about 50 miles south of Vancouver has about 30 different strains for sale. Supplies of edibles did remain low. The lacking supplies along with the small amount of recreational stores serves to highlight the palpable differences between the recreational systems in Colorado and Washington. More than 24 recreational marijuana stores are operating in downtown Denver and the state as a whole has license more than 230 retail locations.
Meanwhile, in Washington marijuana must be grown by a licensed producer, processed by a licensed processor and then shipped to a separate retail location. Retailers are not permitted to sell any cannabis they themselves grow and are not allowed to open the packages the marijuana is shipped in. Additionally they may not have any contact or connection with the states far less controlled medical marijuana industry.
A few weekends ago during the Seattle Seahawks – Denver Broncos football game Lathrop says he had enough cannabis in stock to serve over 1,500 customers. But he says after the game they had stripped his shelves bare and two days later he is still not sure when his next delivery will arrive.
Seattle Attorney Pete Holmes, an instrumental figure in leading the legalization efforts in Washington said that Washington deliberately took a different and separate approach than Colorado when it came to recreational testing, growing, and tracking. Mr. Holmes admits that the initial lack of recreational marijuana will push some individuals to buy it via other, perhaps illegal means. He particularly feels that marijuana that is diverted from the states mostly unregulated medical marijuana industry will find its ways into recreational users' hands. Holmes did go on to elaborate however that ultimately Washington will tighten and more closely watch that system in an attempt to steer people into buying taxed and regulated cannabis.