Proposed Oregon Amendment Would Require Renewal of Medical Marijuana Card Every 60 Days
Posted by Marijuana Doctors on 04/05/2013 in Medical Marijuana News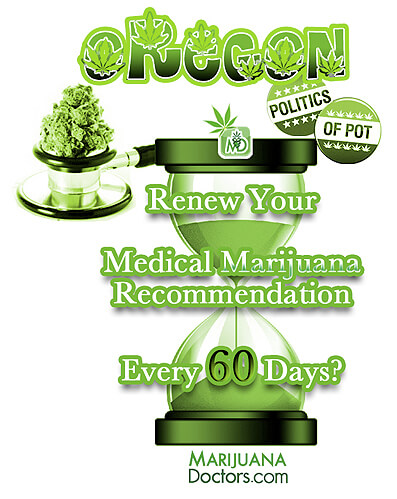 If law makers in the state of Oregon have their way, medical marijuana patients may have to make more frequent trips to a physician to renew their medical marijuana card. With the introduction of two bills to the state's Senate Judiciary Committee, patients are now exposed to the possibility of having to renew their card every sixty days instead of the state-outlined annual renewal.
Oregon's Senate Judiciary Committee held a public hearing on a bill that would also allow individuals with post-traumatic stress disorder to be eligible to receive a medical marijuana card. For a while, post-traumatic stress disorder was not recognized as an approved condition for a patient to receive a medical marijuana card. With the ongoing battle between United States veterans of the military and the post-traumatic stress disorder they developed from their strenuous tours of duty, there had to have been some light at the end of the tunnel for those suffering. Well Oregon, the time has come and it is now being considered.
Aside from the PTSD proposed measure, there were a number of other amendments proposed to the state's Senate, one being Senate Bill 281. Senate Bill 281 was introduced by Senator Jeff Kruse, a Republican out of Roseburg, and could create a major shakeup in the medical marijuana industry. This bill would require medical marijuana patients to renew their registry identification card after each sixty day period. Currently in the state of Oregon, medical marijuana patients have to renew their card every year in order to be considered eligible to be function within the state's medical marijuana program. The patient who would be trying to renew their card would have to provide the Oregon Health Authority with updated documentation from their physician to solidify that medical marijuana would help reduce symptoms of their chronic or debilitating condition.
Reasoning behind this amendment is to mainly make sure that cardholders are regularly seeing their doctor just as they would their primary care physician. Legislators want to view a medical marijuana recommendation the same as they would any other medical "prescription." How efficient this measure would make the program that is still to be determined. This would pose many problems for patients who already have a difficult time getting out of their residence. In some cases, patients had a hard enough time getting their recommendation and card the first time that this would just complicate the process even more. Many believe this could easily just be a ploy to degrade the system, the government's way of always trying to have a handle on the program.
Iraq-war veteran Jared Townsend, agrees with my views and even calls this proposed measure "a play to clog the system." Townsend is opposed to the proposed amendment to the bill because it would be extremely difficult for patients to schedule an appointment with their physician and continually have to renew their card every sixty days. There seems to be no form of convenience in this situation whatsoever, and after all, aren't compassion and convenience the main foundation this industry was built upon?
Supporters of this bill point to the anecdotal evidence presented by physicians that show medical marijuana can help alleviate symptoms and complications from post-traumatic stress disorder, such as nightmares and flashbacks. However for opponents of medical marijuana, such as Senator Betsy Close, she believes that she has seen the "long-term" effects of chronic marijuana use. A close relative of hers has suffered great health effects from smoking marijuana. Now, I mean this in no offense to Senator Close, but if you're a politician and you don't support medical marijuana because of its apparent derogatory long-term effects…then I just don't buy it. All politicians, with the exception of our president, have not "inhaled" so therefore I will negate their opinion and just label it as biased.
Patients who are suffering across the nation should be entitled to receiving a treatment that best alleviates their symptoms. Who are any of these politicians to decide what is in the best interest of these patients? Most of these politicians are healthy, for the most part, but one will never know the true suffering of a patient until placed in that position. Spread compassion, show empathy and just cut the act. There are patients who are suffering and you're trying to make their lives more difficult by claiming they need to visit their doctor more regularly. Well, to all politicians who believe this, how about you go visit your doctor more. Maybe then you can become educated on the benefits of cannabis and hear one of the many miracle stories of seriously ill patients becoming finally relieved.
Currently, the state of Oregon allows medical marijuana for patients who are suffering from chronic and debilitating conditions such as cancer, glaucoma, Alzheimer's disease, HIV and AIDS. This bill would add PTSD, a very disturbing type of anxiety disorder that occurs in people who have seen or experienced a traumatic experience, to that list of conditions. Marijuana is still illegal under federal law and is classified as a Schedule 1 controlled substance, deemed to have no medicinal qualities.
Marijuana Doctors Recent Posts