Problems Doctors Face When Prescribing Medical Cannabis
Posted by Marijuana Doctors on 10/03/2014 in Medical Marijuana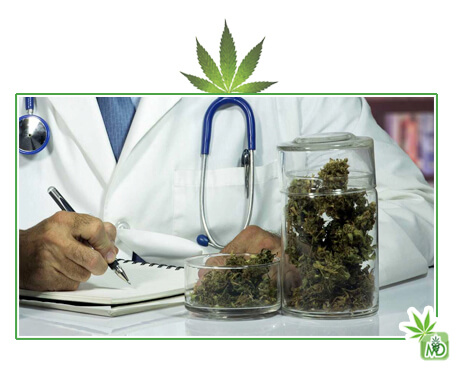 This is a response to the recent article, "3 Problems Doctors Face When Prescribing Medical Marijuana", posted on www.HealthCareGlobal.com. MarijuanaDoctors.com is requesting that the article be retracted due to misreporting and inaccuracies, because MarijuanaDoctors.com provides effective solutions which solve all the issues that the article claim to be a problem.
Ziva D. Cooper, PhD, Assistant Professor of Clinical Neurology at Columbia University, believes that there are 3 major limitations that doctors face when prescribing medical marijuana, an insight she shared on The Doctors Channel. She explained that, in her opinion, lack of controlled studies and unknown risks to pulmonary health are the main concerns for most physicians.
She believes that there are 3 problems doctors are facing in prescribing medical marijuana, the first of which being, that there have not been any double blind, placebo controlled studies to determine the efficacy of marijuana for the number of indications for which it is prescribed. Dr Cooper says, "There also haven't been studies to determine that marijuana is better than some of the other medications that are on the market, so this is an important consideration when deciding to prescribe a patient medical marijuana." The second problem she cites is that, there are risks to using medical marijuana which include dependency and the fact that smoking anything will compromise pulmonary health. "If somebody is opting for the medical marijuana route, some things to consider would be, let's say, vaporizing," Cooper said. "Whenever somebody smokes anything, there's this carbon monoxide expiration and this is an indication that it's not necessarily a good thing to do. When somebody vaporizes, the carbon monoxide levels are negligible." The third issue she talks about, is that marijuana is not necessarily controlled and studied in terms of the different chemicals that are in it. "Different strains have different names and actually now there are services that are provided that can use methods to detect how much THC is in each strain [and] how much cannabidiol is in each strain, but when a patient goes to a medical dispensary, they might not necessarily know all the other components that are in there or how much THC is in that strain," added Dr Cooper.
Firstly, certain double blind studies do exist for marijuana, and these studies can be found and researched at the different states CME courses.MarijuanaDoctors.com has assisted and partaken in many different forms of continued medical education courses across the country, and will continue to provide access to its titration data and research, with hopes of becoming the leader in this form of education for the newly added medical marijuana states, while further improving the courses and information at the same time.
Secondly, MarijuanaDoctors.com only recommends the use of edibles, tinctures, concentrates, or vaporization, thereby equating the risks associated with smoking, and the inhalation of harmful carcinogens. This reduces any of the associated pulmonary health risks that come with carbon monoxide expiration.
And thirdly, while MarijuanaDoctors.com agrees with regards to the need for precise steps being taken, in order to compile the necessary empirical data proving efficacy of treatment, unfortunately, at this time the American Federal Government still has medical marijuana listed in the category of a Schedule 1 controlled substance. For this reason MarijuanaDoctors.com has created its very own titration tracker, a feature of its new app, which will allow doctors to prescribe this portion of the app, thereby creating data which will be stored graphically with the patients electronic medical records. As soon as the federal scheduling of marijuana is changed, and the FDA has begun its trials of testing, doctors will rely onMarijuanaDoctors.com to continue booking their patients, now every 30 days, as a schedule 2 or 3 narcotic, which will also be reimbursed through its medical billing platform along with the appropriate CPT codes.
Jason Draizin, CEO of MarijuanaDoctors.com said, "The number 1 problem for all physicians in prescribing medical marijuana to their patients, is that the federal government insists on keeping cannabis categorized as a Schedule 1 controlled substance. Because of the scheduling the medical communities hands are tied behind their backs in trying to explore and understand the medicine behind marijuana. The apparent problems cited by Dr Cooper however, are not problems for the doctors of MarijuanaDoctors.com, and with the right education and access to legitimate titration data, they wouldn't be a problem for any doctor considering prescribing medical marijuana to their patient. Like in all things, continued education is the key."