You paid $13 to fund the Mérida Initiative
Posted by Marijuana Doctors on 02/12/2013 in Medical Marijuana Laws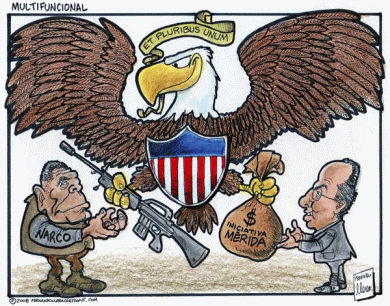 "Plan Mexico" cost American Taxpayers nearly 2 Billion Dollars
The Mérida Initiative, also known as "Plan Mexico", was a "new security cooperation initiative" between the Mexico and the United States to combat drug trafficking and drug cartels. The Mérida Initiative allocated nearly $2 Billion to fund military aircraft and drug interdiction equipment for the Mexican military between 2008 and 2012.
Dividing the costs of the Mérida Initiative of $2 Billion by United States labor force of 155 million, we get $13.00 as the cost of Mérida Initiative to every single American taxpayer. Not one penny of the Mérida Initiative money was dedicated to drug prevention, drug rehabilitation, or medical marijuana research.
Ineffective Policies
This writer takes issue with this. Here we are in rough economic times cutting funding to education, firefighter salaries and medical support for the elderly while we waste billions of dollars to fight the ridiculous WAR ON DRUGS that is proven to be ineffective.
Is the Mérida Initiative just ineffective legislation or something more sinister? Follow the money trail, they say. It is estimated that 90% of weapons used by drug cartels come from the United States. Another sad fact is that the Mexican military and police have historically been used to repress social movements. Since 2007, Mexico's National Human Rights Commission has received 5000 reports of human rights abuses. This is a 6 fold increase in human rights violations committed by soldiers during the first two years of Mexican President Calderon's term, jumping from 182 to 1,230.
The total estimate of the Mexican drug violence is between 60,000 or 100,000 casualties.
What are your thoughts? Do you agree or disagree with using taxpayer funds to arm foreign militaries as a way to fight the war on drugs? Comment below.