Operation Orange Fingers in Full Effect at 22nd Annual Hempfest
Posted by Marijuana Doctors on 08/15/2013 in Medical Marijuana Legalization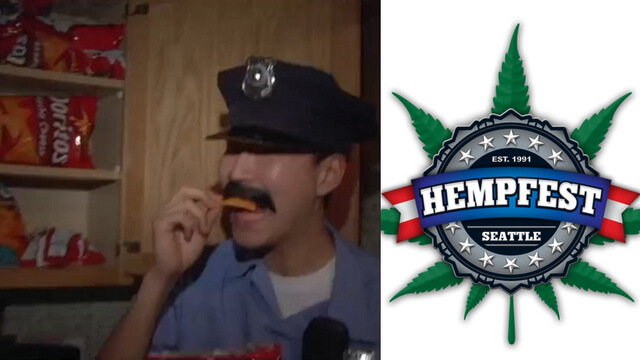 This year, Hempfest, the world's largest annual marijuana advocacy gathering, turns 22. The "protestival" takes place the third weekend in August each year on Seattle's waterfront overlooking the mountains where an estimated 85,000 people per day are expected to come together for the three-day event. And this year, rather than dishing out summons, Seattle's law enforcement will be handing out munchies snacks – Doritos, to be exact.
Hempfest, which was founded in 1991 as the Washington Hemp Expo, had only 500 attendees. The following year it was renamed and rapidly grew into a political rally, arts and crafts fair and concert. This year, the event will feature 117 musical acts spread across six different stages, more than 100 speakers and over 400 vendors offering pamphlets, colorful glass paraphernalia, food and art. The event's mission statement is simple, "to educate the public on the myriad of potential benefits offered by the Cannabis plant." The belief Seattle's Hempfest was founded on is that the public is better served when citizens and public officials work cooperatively in order to successfully accomplish common goals, says their website.
Hempfest's executive director, Vivian McPeak, made it clear that despite state-level legalization, marijuana is still illegal under federal law. And though the event is free of charge, she asks attendees to try to contribute $10 to maintain the $800,000 yearly cost of Hempfest. "It's going to be the most interesting Hempfest we've ever had because it's going to be part victory celebration," said McPeak. "That said, we feel it's very important to remind everyone that as long as it's still a Schedule 1 drug under the Controlled Substances Act, it's not legal anywhere. The Job's not done yet."
However the organizers and law enforcers are working in cahoots during crunch time at Hempfest to keep a positive mental attitude flowing throughout the festival. Seattle's police department spokesman and designated junk-food-dispenser-in-chief, Sergeant Sean Whitcomb, has expressed his excitement over the act of kindness. "I think it's going to be a lot of fun," he said. "It's meant to be ironic. The idea of police passing out Doritos at a festival that celebrates pot, we're sure, is going to generate some buzz."
The idea behind the finger lickin' goodness isn't solely to satisfy Hempfest attendees' munchies, however. Of the annual Hempfest budget, money was specifically allotted for 1,000 bags of uniquely labeled Doritos. Yesterday, Hempfest's twitter released an image of the "opening credit roll" to appear on the special snacks. The words read, "Hempfesters! We thought you might be hungry. We also thought now might be a good time for a refresher on the do's and don'ts of I-502." The purpose of the specially made bags is to urge snackers to check out a question-and-answer post on its website, cleverly titled, "Marijwhatnow? A Guide to Legal Marijuana Use in Seattle." The guide was written by a former journalist turned police department member, just one week after Washington citizens voted to pass state law I-502, which legalized up to one ounce of recreational marijuana possession per individual.
The Seattle Police department is taking this light-hearted act and sharing it with Hempfest followers via twitter. This past Wednesday, they tweeted, "Yes, we will be at @seattlehempfest. But we'll be giving out @Doritos & #Marijwhatnow literature. Please make a note of it. See you Saturday!"Of course, the tweet inspired a follow up of witty rumors and suspicion to which the police department comedically responded, "Please ignore maliciously false reports that we're giving out Bugles at @seattlehempfest. We would never, ever do that."