Only One Week Left For NH Medical Marijuana Dispensary Applications
Posted by Marijuana Doctors on 02/08/2015 in Medical Marijuana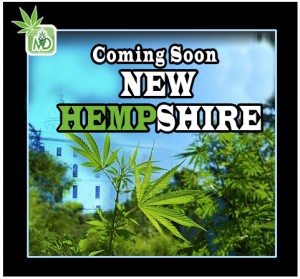 Prospective medical marijuana dispensary owners in New Hampshire, have mere hours left in which to submit their hopeful applications to the state for review.
New Hampshire passed a law in 2013 that would provide the state with up to 4 dispensaries will be licensed to provide marijuana for the medical treatment of serious and debilitating illnesses. It also required that the state be required to choose at least 2 of these locations by the imposed deadline of January 23, 2015. However the Department of Health and Human Services has indicated that the decision will, in all likelihood, not be made until the end of February.
Locations have been proposed for Littleton, Epping, Franklin, and Newton. As per law, the state is required to license 4 centers, divided among 4 varying geographical areas.
Paul Morrissette, owner of Regal Auction Services and several other commercial properties in and around Franklin, is working with a Massachusetts organization to develop and application.  According to Morrissette, Franklin is only a 30 minute drive form 5 hospitals, and only a 60 min drive from almost a dozen. Morrissette estimates that a dispensary located in Franklin could potentially service around 3,000 patients.
Jason Draizin, CEO of MarijuanaDoctors.com and PotLocator.com – online portals that not only help a patient find a marijuana doctor who can aid them in qualifying for their states program, but also helps the patient find a marijuana dispensary once they have been registered – thinks that, "This is good news indeed. Finally the patients of New Hampshire are in the final stretches of being able to access their medication. Hopefully the state will issue its selection soon so that the growing process can begin and the dispensaries can finally start their job of dispensing. Patients living in New Hampshire are encourage to download the PotLocator.com app for more information on the dispensary locations around NH."