One tribe's peace pipe is another tribe's expulsion
Posted by Marijuana Doctors on 08/13/2013 in Medical Marijuana Patient Stories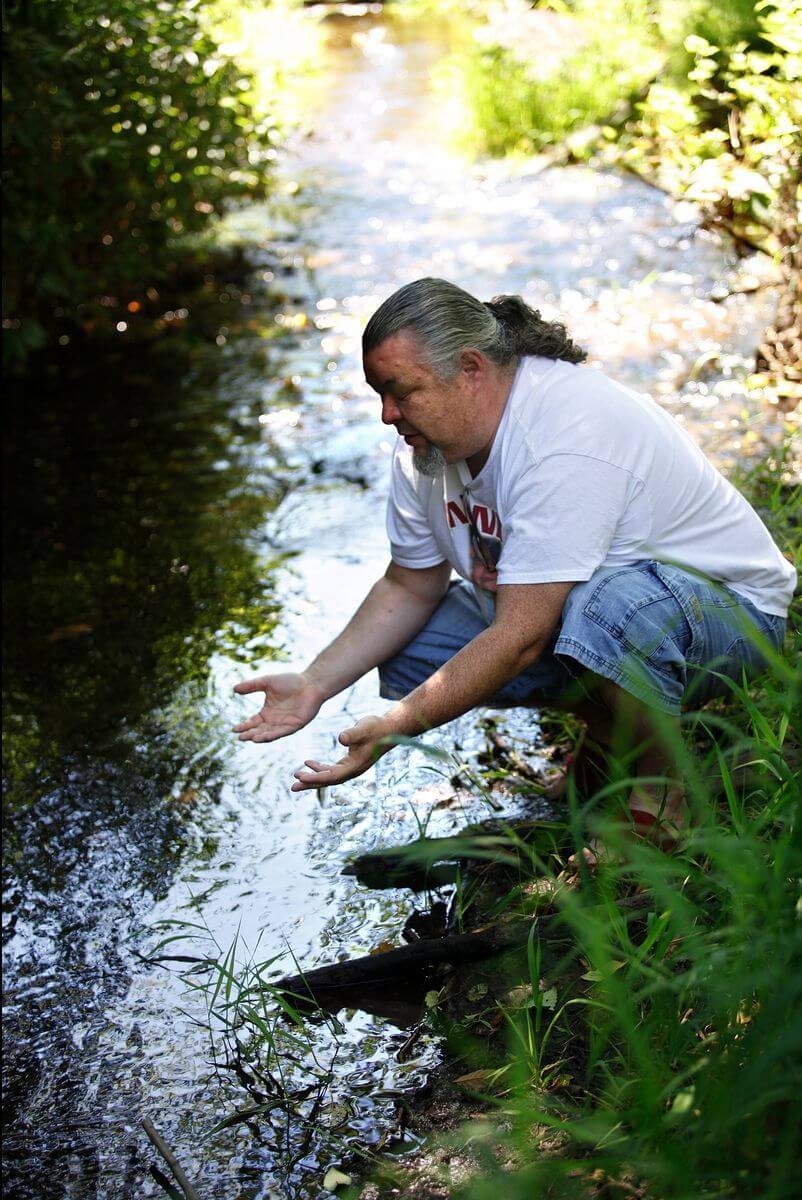 Dennis Boon was 14 years old when he was struck in the head by a seven iron golf club. He had been hitting Wiffle golf balls in eighth grade physical education class when he reached down to grab the ball that had rolled in front of his classmates. One of which, hadn't seen Boon crouching down to pick up the ball, when he had accidentally stricken him in the head. The result left a hole in Dennis' skull. Not long after the incident, Boon began having epileptic seizures which gradually grew in strength and violence. Boon, now 47, says these episodes ran his life for the following decade.
A dedicated member of the Tulalip tribe in Washington State, Boon had tried conventional treatments to halt his seizures, or at the very least, bring him relief, but to no avail. After medicating with marijuana, he had found the results were immediate. He had found solace in alternative treatment in a medically legal state. However, the law to which the Tulalip tribe subscribes, similarly to other Indian tribes, strictly prohibits Marijuana.
Last month, Boon had been banned from his reservation for possession of 240 grams of marijuana, the equivalent of a little over 8 ounces. And though he's been granted permission to petition to return to the land in one year, he'll have to sacrifice his medicine, a tribal spokeswoman said.
Due to the complexities of the reservation as a semi-sovereign nation under federal law, the tribes have no obligation to recognize states which conflict with those of the U.S. government, reported Robert Anderson, law professor and director of the Native American Law Center at the University of Washington.
Niki Cleary, communications director for the tribes, further explained the illegalities of marijuana on the reservation, without exception. "We're bound by tribal law and federal law; we're not bound by state law. Remember that our people have existed as a sovereign since long before the United States government existed, and our treaty with the U.S. government predates the creation of Washington as a state."
Tribes can choose their own course in the matter, said Anderson. Just like any state or county government does with criminal and civil matters, they are granted the freedom to make their own laws. Conversely, due to this political independence, tribes may choose to follow state law regarding such matters, rather than federal. For the Puyallup Tribe in Pierce County, this encompasses recognition of medicinal marijuana.
For Tulalip and other reservations which strictly follow federal law, the only criminal jurisdiction the state has over tribal members regards traffic incidents on public roads and land that's been deeded to a non-Indian property owner. Cleary said that the tribe's opposition to the legalization of marijuana stems from the belief that, "…we, the community as a whole as well as our governing leadership, do not see the drug as beneficial, but rather view it as a harmful substance." Yet for Boon, it has been his saving grace.
The tribes decided Boon was guilty of possession and intent to sell. Cleary went on to say that this, "is the only time generally that somebody is excluded from the reservation. We understand that addiction is a disease and takes some choice away from people." Back in January, state police had found the marijuana at his home. He had been stocking up on cannabis after receiving his tribal dividend check during the holidays. However, despite claiming he had no intention of distributing the marijuana, Boon's words went unsung.
Boon's home had been searched during an investigation of reported stolen property within the reservation. At the time of the initial investigation, for non-marijuana related purposes, the officer did note that he detected "the odor of burnt marijuana." Boon had taken further precaution, knowing his house was under suspicion. He had someone install a carbon-monoxide detector and made sure to air out his house so as not to flaunt the marijuana or raise questions, Boon said.
Several days later, police returned to his house, armed with a search warrant, and found the marijuana. Boon had followed all necessary guidelines by the state of Washington. He had properly stored and sealed his plants, with his doctor's recommendation distinctly posted. Circumstantially, Washington State law allows medicinal marijuana patients to possess up to 24 ounces – nearly three times the amount Boon was charged with.
The crime, however, per tribal law, is considered a high-end misdemeanor. Initially faced with a $5,000 fine and a penalty of up to one year in jail, Boon was offered a deal; a $100 fine and expulsion from the reservation. Feeling completely defeated, he accepted the expulsion, noting he was left with little choice.
Boon's federally funded housing arrangement was specifically for tribal members living on disability status, which he had obtained primarily because of old resulting injuries from his frequent seizures. Though he had operated a commercial smokehouse business in the Midwest for a couple of years, and held other supervisory restaurant jobs, he recently became unable to work. The charging documents made it abundantly clear that this gave all the more reason for deferral law to be followed and carried out in this instance.
"There's an oath of office in place that specifically states that 'I will follow all the laws of the state of Washington and protect the citizens within,'" Boon said. Though Boon had found a potential loophole in his charge, noticing an arrangement in which Tulalip police officers are cross-deputized in state law, and felt that should require enforcement to follow said laws on the reservation, Cleary said tribal officers are cross-deputized only so that they have the power to arrest non-tribal members if at all necessary.
The cross-deputization, Cleary went on, is also, "to assure non-tribal members that our officers are trained to the same level as any other peace officer in Washington state, that if an officer signals you to pull over, you need to pull over." The state law authorizing the cross-deputization agreements firmly state that the law does not supersede tribal sovereignty. "I've broken numerous bones, I've hyper-extended most of my appendages, it's hard for me to stand on my feet," Boon said. Having moved as a child from Minnesota to Alaska, his high school teachers took note that he would seemingly fade in and out of consciousness with no apparent trigger.
They told his father that Boon had tendencies to, "just stop in the middle of conversation and just stare." At the age of 8, Boon was diagnosed with epilepsy. And at 18, he was involved in a car wreck that brought his epilepsy to a new level. He was suffering from an average of seven grand mal seizures, blackouts and convulsions every week. Naturally, his accident went hand-in-hand with yet another qualifying condition for medical marijuana, Post Traumatic Stress Disorder. "It's like someone over your shoulder ready to hit you with a baseball bat. You can't see him, you can't hear him, you never really know its coming. That constant anxiety takes a toll on your health," Boon said, describing his every day paranoia.
In the mid-1990s, Boon had been studying business at the University of Alaska Anchorage when a neurologist referred him to a man who had used marijuana to control his own seizures. Boon remained a skeptic. He recalled his response, "'I smoke pot and I still have seizures. That's a load of crap.'"
Boon had been advised, if he chose to use marijuana, to treat it like a medication, regularly using small amounts to maintain it in his system. After giving it a trial period, Boon could not recall a single seizure he had had while medicating. "From that point on, I started a different approach with the way I handled marijuana in my life," he said.
For years after that, he could count on one hand the number of seizures he had had. All of which, were Petit Mal Seizures, compared to the full blown ones he had previously experienced. Now, he says he hasn't had a full-blown seizure since 2003. "I couldn't imagine years ago that I could go 10 days (without one)," he said.
Prior to choosing marijuana to treat his condition, Boon's medical bills ran him around $122,000 a year, according to Jay Carey of Arlington, Boon's attorney. Since he began the incredibly beneficial process of medicating with marijuana, those costs have drastically decreased to around $6,000.
Boon had chosen to move back to Tulalip permanently in 2004, mainly in part, because of the state's legalization laws regarding medical marijuana. At the semi-annual fall tribal council meeting three years ago, he overheard tribal officials making anti-marijuana statements, and felt that the administration would not permit medicinal marijuana without a largely harmonious voice spoken from tribal members at large.
"I knew that I was probably going to have to do something that I really didn't want to do," he said. "I was going to have to go in front of all of my people and say 'I'm a medicinal marijuana patient' and the reasons why, and I was going to have to put it to a vote. I was basically going to go out and put a target on my back." At the council meeting that spring, Boon made a motion to consider the legalization of medical marijuana on the reservation. Many others, he noted, spoke in favor.
Boon recalls one tribe member commenting something to the effect of, "You can't go five gravestones (in the tribal cemetery) without passing somebody who died directly from alcohol, and we're selling booze up here seven days a week like there's no tomorrow. I haven't heard of a single person ever, ever dying from marijuana, but we've got a graveyard full of people who died from booze."
Though he remained hopeful about the motion's passing, it was turned down. Tribal members in the past have brought up motions to ban alcohol and have been wildly unsuccessful. Alcohol, Cleary said, "is a dichotomy that our membership and leadership have wrestled with for years." Though Boon said he personally knows more than 40 tribal members who regularly use marijuana to medicate, he acknowledges that they are too afraid to make themselves known. Boon fully believes that police targeted him after his critique of the tribal government during a council meeting two years ago. "I firmly believe this has nothing to do with medical marijuana," he said.
Unapologetically, Cleary stated that, "I really do appreciate that Dennis has a dilemma." However, "None of this would have been an issue if he had chosen to live in Marysville. If you don't want to abide by the laws of a municipality, then don't live here."
His ban, made effective mid-July will be an extremely difficult period, as he has always loved his land unconditionally. "I consider myself an extremely spiritual person," he said. Boon feels deeply connected to his tribe as he often visits Quilceda Creek, the body of water which flows through his current residence in Marysville to the Tulalip reservation where he one day longs to return to.