Oklahoma Governor Announces Support For Medical CBD
Posted by Marijuana Doctors on 08/15/2015 in Medical Marijuana Research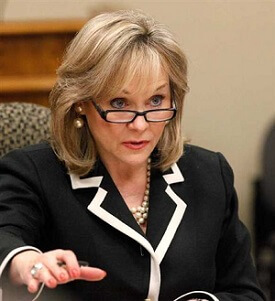 Location: Oklahoma City, Oklahoma | Source: KFOR News Channel 4
Oklahoma City, Oklahoma – Medical marijuana reform truly has gone nationwide. Oklahoma, a state with some of the most restrictive laws against marijuana possession is now being one of the first states in the south to accept a new way of thinking.
The state's Republican Governor, Mary Fallin, asked lawmakers at a press conference on Wednesday to collaborate with her and each other to support medicinal cannabidiol oil (CBD) and associated legislation that would allow for the drug under extremely medically controlled supervision. In recent years there has been a surge in information and research that shows CBD to be an effective treatment when working with toddlers and other juveniles who suffer from rare conditions that cause seizures. Because CBD is an oil extract of the cannabis plant it is not smoked so it poses no inherent risk when administering it to patients.
The reason for increased CBD support nationwide comes on the heels of the story about Charlotte Figi, a young Colorado girl whose family successfully brought her hundreds of daily grand mal seizures down to a small handful of manageable episodes using a special strain of marijuana high in CBD. "Charlotte's Web" as the strain has come to be known is extremely low in the psychoactive compound in marijuana called THC.  By seeking the opposite chemical makeup in cannabis than the recreational marijuana user growers are able to develop powerful strains that serve legitimate medical purposes without intoxicating the patient.
"I do not support legalizing the recreational use of marijuana," said the Governor. "Nor do I support a broadly defined "medicinal" marijuana use that makes it easy for healthy adults and teenagers to find and buy drugs. I do support allowing potentially life-saving medicine to find its way to children in need. I am very interested in allowing limited, heavily supervised use of non-intoxicating CBD to be delivered on a trial-basis to sick children in Oklahoma."
State Representative Jon Echols, who decided to take up the CBD issue after his neice was told she might benefit from its use, will begin leading a legislative study aimed at examining the possibility of permitting medical trials for CBD on children only.
"I am extremely interested in the findings of that study, and I look forward to working with lawmakers in both parties to pursue policies that can help sick Oklahoma children," said Fallin.
In a press conference on Wednesday Governor Fallin emphasized that this study will be a very limited clinical research trial only available to children.
The CBD oil that will be study will contain less than 0.3% THC. Legislators will need to convince the Public Health Committee that there is no possibility that anyone will abuse the CBD oil program.
Already the question has been asked on who will fund these new state trials. Rep Echols has state he is open to the new trials being funded by state, private, or federal dollars.