It's Official: The Deep South Has Gained Irreversible Momentum on the Medical Marijuana Front
Posted by Marijuana Doctors on 03/03/2014 in Medical Marijuana News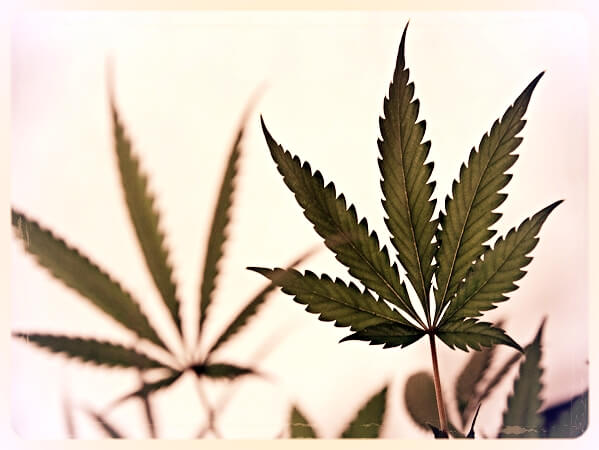 The Deep South: known for its abundance of red states, traditionally draconian ideals and predominantly conservative values. When taking into consideration notions of historically recognized southern tradition – words like change, alternative and marijuana are not often, in any context, called upon. In fact, the Governor's mansion, constructed in 1971 represents just about all the marijuana support we've seen thus far landing its geographical location at 420 High Street. Coincidence? Purely. So this past week in Alabama, Kentucky and Georgia laws were passed regarding the legalization of cannabidiol, a medically beneficial substance derived from cannabis.
In a recent Bluegrass Poll, 52 percent of Kentucky citizens voted in favor of legalizing medical marijuana , while 37 percent remained opposed. Ironically, the Bluegrass Poll last year asked Kentuckians if they would be in support of "prescribed" medicinal marijuana. The result? A 60 percent turnout in favor of the idea. So, why then is this year different? This year, they dropped the word "prescribed," as the question read, "Do you favor or oppose allowing the use of medical marijuana in Kentucky?" Jay Leve from SurveyUSA, the company that conducted this year's poll said that a mere difference in wording "accounts for almost all of the difference." Every word matters, said Leve. 'Prescribed' implies something that has been pre-blessed, pre-authorized by a medical professional," said Leve.
In Georgia, House bill 885, also referred to as Haleigh's Hope Act passed through the house committee just last Wednesday. In the past year, hundreds of families have been forced to uproot their lives and move to Colorado in hopes of accessing Charlotte's Web, the 'miracle oil' that's proven to significantly control seizures within patients. The bill's intent is essentially to provide families with the high CBD cannabidoil oil in the comfort of their home state, so they are not forced with the decision of having to become medical refugees in a foreign state. State representative Alan Peake who championed the bill said, "There is such a demand for the cannabidiol oil that I think there will be changes on the federal level."
In regards to the lack of FDA approval that citizens seems to fear, Peake assures "Many of the medicines that have been approved by the FDA have more side effects than the cannabis oil. The current medicines that one child is on, and has been FDA approved, causes liver damage, kidney failure, and fatal rashes."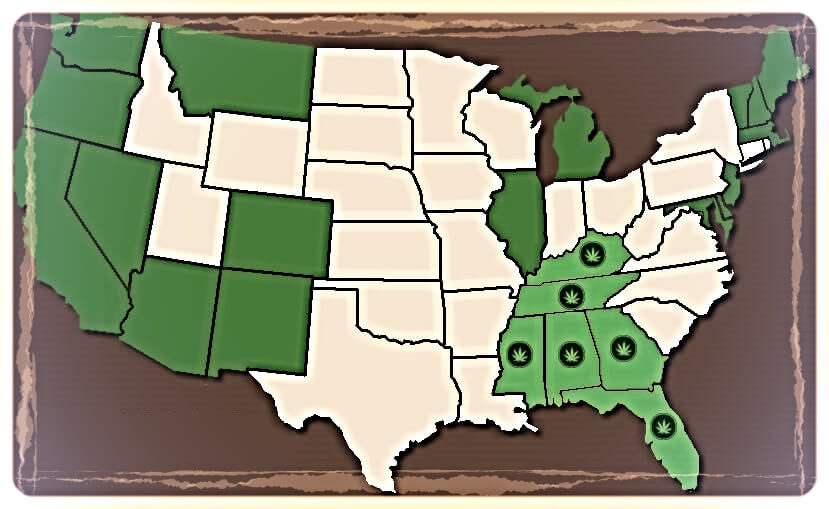 (Above: A map of the United States that portrays current medical marijuana states, as well as what the expected medical marijuana states will be when the next general election arrives. With a growing sense of irreversible momentum, the South is sure to provide patients with undeniable healing.)
The recently implemented farm bill provision, Amendment 208 (A033) was added with the intent of allowing institutions of higher education to grow or cultivate industrial hemp for academic research purposes. In the bill, lawmakers have included an option to obtain the oil from the University of Mississippi, which was selected in 1968 as the country's only government funded marijuana farm. Additionally, lawmakers have added the cultivation option for academic medical center's like Georgia Regents, Emory, Mercer or Morehouse to monitor marijuana research. Already, several academic medical centers have said that they would only be comfortable further pursuing research if it was made state law.
However, the farm bill provision explicitly states that the amendment is only applicable to the nine states that previously permit industrial hemp growth by law. The nine states are California, Colorado, Kentucky, Maine, Montana, North Dakota, Oregon, Vermont and West Virginia. Bills have since been proposed in Hawaii, Indiana, Nebraska, New Jersey, Oklahoma, New York, Tennessee, South Carolina, Washington, West Virginia and Wisconsin.
Recently, the Epilepsy Foundation has vouched, immensely for the use of CBD in treating seizures. One Alabama resident, and father to seizure prone son, Tripp, said, "The top neurologist in the country is saying more states need to embrace this, but people are worried about their political careers versus their children."
States attempting to implement laws permitting the use of cannabidiol oil have been relying primarily on anecdotal evidence disseminated throughout the media. Alabama's newly constructed bill, House Bill 104, would permit those using CBD for certain debilitating conditions to plead that as their defense in court if and when they are charged with drug possession. In other words, it's decriminalized – but not legally obtainable.
Rachelle Yeung, Legislative Analyst for the Marijuana Policy Project emailed the Huffington Post regarding the new law and said, "This law is not perfect, and still leaves many patients behind. But it is a step in the right direction. Many states have started with similar affirmative defense laws and gone on to adopt comprehensive medical marijuana programs that would not subject patients to prosecution at all."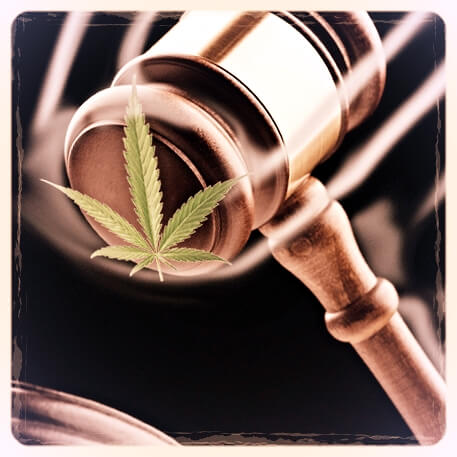 Last week in Kentucky, legislators passed a committee bill that would allow patients to use cannabidiol oil for medical treatment purposes. Rita Wooton, mother to son Eli who since 13 months has been experiencing as many as 90 seizures a day testified before legislators at the recent hearing. "You don't know what it's like until you take my son home with you," said Wooton. "I'm not looking for sympathy or even empathy. We're looking for help, and that's where we come to you all. It's your all's decision on what my son gets as far as treatments." Initially, the Wooton's planned to access the medicine in Colorado and bring it home. If caught, the family could be charged with trafficking illegal drugs across state borders. Already, two lawmakers have suggested to the Wooton's that they go through with breaking the law. One Democratic Senator and former governor and attorney, Julian Carroll, told the Wooton's he'd represent them.
"I don't know that I've ever suggested that anybody go do anything that isn't legal, but I know, as a parent, I'd be doing whatever it took," said the Louisville Republican and chairwoman of the Senate Health and Welfare Committee.
Progress is progress is progress. Right? These southern states are undoubtedly keeping the medical marijuana momentum rolling in our nation, but as all states involved have recognized – flaws will continue to murk the state laws and programs until marijuana can be uniformly rescheduled in our nation.