Obama Takes First Step To Rescheduling Cannabis
Posted by Marijuana Doctors on 10/16/2014 in Medical Marijuana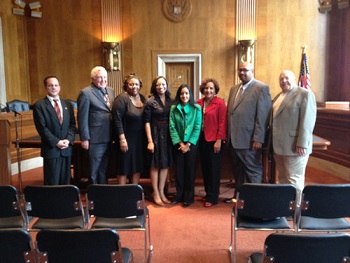 It was recently announced that Obama intends to nominate Vanita Gupta, currently director of the ACLU's Center for Justice, to lead the civil rights division of the Justice Department. MarijuanaDoctors.Com is pleased with this information, because Vanita Gupta's interest in disparities reflects concern over racial disparities in the war on drugs. Gupta has been quoted saying, ""We've spent decades criminalizing people with drug dependency, passing extreme sentencing laws, and waging a war on drugs that has not diminished drug use."
Venita Gupta has also written extensively about the failures of the war on drugs, and when we caught up with the CEO of MarijuanaDoctors.Com, Jason Draizin, he told us that, "Our Company is pleased, she is a strong supporter of marijuana decriminalization. I also strongly agree with Gupta's past statements in regards to outright legalization by states. States following Colorado and Washington by taxing and regulating marijuana and investing the saved enforcement dollars into education, substance abuse treatment and prevention, rather than wasting millions on arresting its statesman for a crime which is essentially a health issue".
Draizin followed this by stating that, "It was opinions like these that pushed forward the medical marijuana agenda in Colorado once the voting citizens began to realize that majority of its citizens were being forced into unfair and harsh realities, for something as simple as a marijuana possession violation. The reality is that the vote for marijuana has become the same as the vote for the protection of minority groups, and our civil liberties".
It is imperative that the scheduling be changed, in order for the next steps to be taken forward. If Vanita Gupta is persuasive enough to change the federal scheduling of marijuana, then we can finally begin examining its real medicinal properties, and the safety of it as a product, in order to have it taxed and sold to the American public. Once the marijuana scheduling change is underway, both doctors and patients will become dependant and reliant on the scheduling capabilities of www.MarijuanaDoctors.com, as this change will in fact mandate the amount of time between visits with a physician, in order to maintain a prescription for marijuana.
Jason Draizin concluded, "It was always our vision to become a ZocDoc-style calendaring and scheduling system for this niche industry. We became aware of the power of our platform, when the east coast states began using language like "Bonafide Patient Relationships", which meant patients and doctors would require multiple appointments before the clinician could even discuss whether or not a patient would qualify for a states program. Due to this, we are now in development of medical malpractice gap insurance, which covers the recommendations itself, and medical billing platform. We have even launched a new version of our mobile app allowing doctors to understand how cannabis is interacting with the individual within a myriad of data points, in regards to defining the medical use of the plant. A program that was originally created for patients' to find doctors on the basis of time, price, location, and specialty, while acting as a turnkey solution for its client, the physician, in successfully eliminating the risks associated with medical steering, pharmaceutical pushing, and violations of their hippa laws, now gets to further expand into these vertical's, for physicians in this and every other field of medicine".