Obama Administration Says No to Marijuana Legalization
Posted by Marijuana Doctors on 05/07/2013 in Marijuana Politics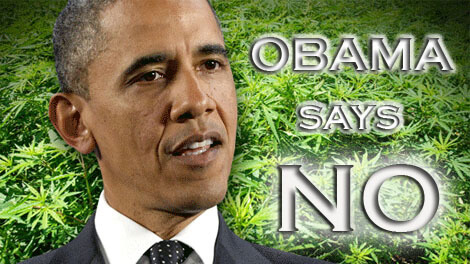 The answer to the war on drugs has been proclaimed and President Barack Obama has made his opinion on marijuana one that is final and stern. While speaking at a large gathering in Mexico City last Friday, Obama shut the door for any possibility that the government would take a more lenient approach towards legalizing certain recreational drugs, especially marijuana. The President told a large group of young Mexican's at the city's Anthropology Museum, "I've been asked, and I honestly do not believe that legalizing drugs is the answer."
With a handful of polls portraying more and more Americans favoring the ending of the federal ban on pot, states have already began to lift legal restrictions on marijuana. Most notably, Washington and Colorado have outright legalized marijuana for recreational use. Events like this have put the President in a very awkward situation, and as a pot smoker in his younger years, Obama must decide whether to instruct his cabinet to challenge state laws or to just let bygones be bygones and leave them alone. Since his campaign trail days before his presidency, Obama had stated that this was a states' rights issue and that he would do no such thing to prosecute anyone involved. This comes as DEA raids are conducted every single day in states such as California and Michigan.
President Obama made a point to touch on drugs during his Mexico City speech mainly because marijuanais a chief import from Mexico to the United States. Due to this, there has been a rising swell of cartel violence and activity that has left thousands of Mexicans dead over the years, and in some cases has even made its way onto American soil. Obama said that his administration must focus on an all-encompassing strategy that will deal with drug uses at home as well as attempting to figure out a way to reduce the demand for drugs.
The President added that trying to fix the problem will require a very comprehensive approach not just by law enforcement, but by education, prevention and treatment. His words reflect the latest plan that was put forth by Obama's Office of National Drug Control Policy, which essential considers recreational drug use to be a public health issue. Rather than attempting to advocate drug users through jails and prisons, Obama's plan calls for blending strong prevention techniques with effective rehabilitation programs in order to curb future drug use.
The President's administration has a strategy that is somewhat controversial and has gained wide criticism. It technically defines regular pot users as people with brain diseases or an addiction, because addiction is a brain disease. However those in favor of marijuana will tell you that the drug is NOT addictive and that there is no proof that it is. When will the government fight for the patient?
Marijuana Doctors Recent Posts