NY Police Spend One Million Hours Arresting People for Marijuana Possession
Posted by Marijuana Doctors on 03/20/2013 in Medical Marijuana News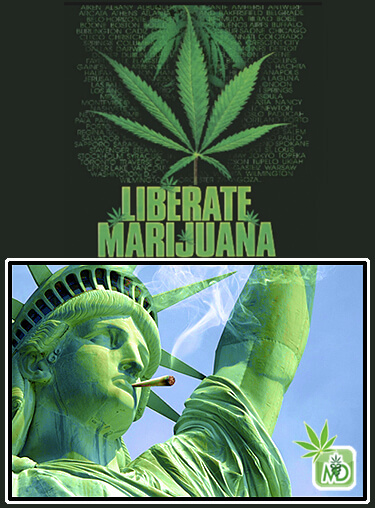 According to a new report that was released late Tuesday, between the years 2002 and 2012, the New York City Police Department has spent nearly one-million man hours on the arrests of 440,000 individuals for low-level marijuana possession charges. These statistics could not come at a greater time, as legislative leaders in New York's capital, Albany, are deciding whether or not to vote in favor of a bill that would reform drug laws. Under current New York State law, the possession of marijuana for personal use in a private area is punishable by a ticket. On the other hand, the possession of marijuana open to public view is a Class B misdemeanor, punishable by a fine of $250 and a potential maximum sentence of ninety days.
The two prominent pro-drug law reform groups that commissioned this report, the Marijuana Arrest Research Project and the Drug Policy Alliance, have declared the findings of this report to be a "huge waste" of police resources. This is not the first time that the NYPD has dealt with scrutiny over these relentless arrests for pot possession and in past reports they have been exposed for unjustly making "stop-and-frisk" searches. Just last February, Mayor Michael Bloomberg announced a new marijuana policy for New York City during his State of the City address.
Alfredo Carrasquillo, a civil rights organizer with the well-known activist group VOCAL-NY, said in a released statement, "We cannot afford to continue arrested tens of thousands of youth every year for low-level marijuana possession. We can't afford it in terms of the negative effect it has on the future prospects of our youth and we can't afford in terms of police hours." Carrasquillo is right, and change needs come already because a disproportionate number of New York City residents, specifically black or Latinos are being arrested for emptying their pockets on their order of the police during an unfair "stop-and-frisk" encounter. A recent drug reform proposal from Governor Andrew Cuomo outlined a bill that would decriminalize small amounts of marijuana in public view. Currently, possessing 25 grams or less of marijuana that is kept completely out of sight is only a violation that is subject to paying a $100 penalty.
Governor Cuomo has put marijuana law reform on the top of his legislative priority list. Cuomo is backed by Mayor Bloomberg and New York City Police Department Commissioner Raymond Kelly. In 2012 alone, the NYPD was reported to have made nearly 39,218 low-level possession arrests. The report averaged a time of two and a half man-hours being spent on each arrest, totaling nearly 100,000 hours. Bloomberg has been notorious for having a reckless record on marijuana, as he has ordered the NYPD to arrest more New Yorkers than the last three mayors combined.
Take Action! Call Cuomo!
If you are New York resident, be sure to call Governor Cuomo at (212) 681-4579 and say
• "Hi, my name is ____________. I am calling to ask Gov. Cuomo to pass his marijuana decriminalization proposal immediately. It will reduce racial bias, save the state tens of millions of dollars, and bring greater equity to our state's marijuana policies. Thank you."