NY Moves One Step Closer to Medical Marijuana Legalization
Posted by Marijuana Doctors on 06/05/2013 in Medical Marijuana Legalization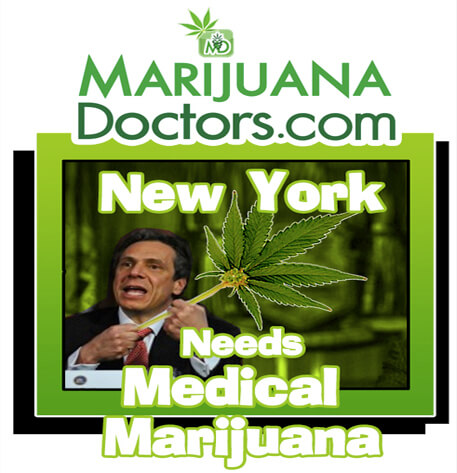 On Monday, New York State legislators passed a proposed measure that would legalize marijuana for medicinal purposes. The measure was met with easy approval by way of a 95-38 vote in the Democrat-controlled New York State Assembly. The bill's next step is being presented to the state Senate, where three previous medical marijuana measures that were approved by the state's Assembly have failed miserably.
The Compassionate Care Act, also known as Assembly Bill 6357, faces opposition from Governor Andrew Cuomo and Republicans in the Senate. This act would allow patients that are suffering from debilitating and serious conditions such as cancer and multiple sclerosis to use marijuana under a physician's written-recommendation and supervision. Patients or their caregivers would be able to possess up to two-and-a-half ounces of medicine, and it would be made readily available through state-sanctioned medical marijuana dispensaries.
Assembly Bill 6357 would also establish a so-called seed-to-sale tracking system that is similar to the one that was implemented in Colorado. A seed-to-sale tracking system would provide immense regulation within the state's proposed medical marijuana program, in which companies that are licensed by the state would be able to cultivate, distribute and sell marijuana to patients.
One of the more notable supporters of this measure would be Republican Assemblyman Steve Katz out of Putnam County. For those unfamiliar with Katz, he was ticketed earlier this year for being in possession of marijuana at a traffic stop. It is about time that a state legislator changes their mind about this miracle plant, in hopes of providing patients everywhere with a better sense of well-being. Katz said that his mind was changed after hearing the many pleas from patients in the state who have what was deemed "unimaginable" pain.
Although this measure faces a great uncertainty, the future could be right for medical marijuana in the state of New York. Legislators are taking the time to hear the voices and the stories from the patients who experience pain and suffering head-on. It remains hopeful that lawmakers will take more time to hear the pleas of the patients, similar to what was supposed to be implemented in the state of Connecticut.
Marijuana Doctors Recent Posts