NY Medical Marijuana Industry Trade Association Created
Posted by Marijuana Doctors on 07/21/2014 in Medical Marijuana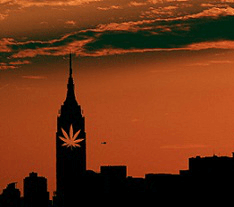 New York, NY – With The Empire State being the latest state to legalize medical marijuana advocates have been very busy helping to create an infrastructure that will ultimately allow the medical marijuana industry in the state to flourish. Major state medical marijuana advocates have teamed with public policy, medical, labor, and government affairs experts to establish the Medical Cannabis Industry Alliance of New York (MCIA). The groups self reported purpose is to help state regulators create the most effective, efficient, and safe medical cannabis program in the country.
Melissa Hilt, one of the groups founding board members told Hemp.org "This new association will work to bring the best practice from around the country and meld them with the unique needs of New York State's diverse communities, so we have the safest and most effective program possible, we recognize the enormous challenge and workload, the State regulators face in the coming months. We hope to be a resource that allows that work to proceed efficiently so we can ensure this program is up and running as soon as possible so patients can get the relief they so desperately need."
Because Health Department officials have established that individual companies wishing to enter the New York Medical Marijuana industry may not speak directly with state regulators the MCIA hopes to be a one stop clearing house for those parties, they hope to provide access to the most current information and direct their expertise to state officials as needed. MCIA also told Hemp.org that it will not be participating in any bidding process for the 5 state producer licenses and instead will be strictly acting to ensure that New York has the safest and well run medical marijuana program possible.
Well known companies such as Gaia Plant Based Medicine and KannaLife Sciences will be founding members of MCIA with additional companies from New York being announced in the coming weeks. Board members will include Patrick McCarthy and Lisa Reid from Mercury LLC, and Ed Draves from Bolton St. Johns Government Relations and Public Affairs Consulting. "I'm very excited to continue working with the team to help make New York's system the best it can be," McCarthy expressed. "This is a nuanced, complex industry. There are many challenges the men and women who make up the industry face every day that are unique to medical marijuana, we want to make sure we learn from what other states have done and make sure we don't make any of the same mistakes."
The MCIA told the media that its members will consist of growers, real estate interests, patient advocates and a collection of other contributory industries associated with medical cannabis. The group goes on further to explain that states that have already put in place similar "seed-to-sale" infrastructures have seen a jump in job creation and collected tax revenue.
A prepared statement released by MCIA reads "In order for patients to receive access to reliable and safe medicine, a thorough regulatory structure needs to be created; funds to maintain those stringent regulations need to be paid for through revenue generated from a for-profit system like the one being proposed in New York