NY Medical Marijuana Dispensaries Now Open
Posted by Marijuana Doctors on 01/07/2015 in Medical Marijuana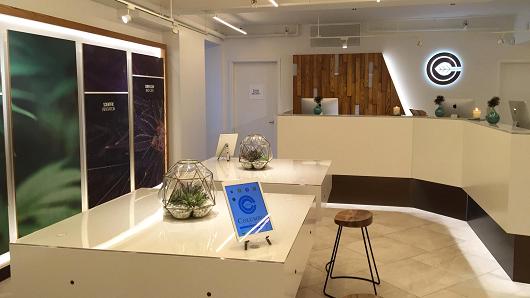 As the New York Medical Marijuana Program officially gets underway, some, medical marijuana dispensaries are opening for business, too. Of the twenty expected medical marijuana dispensaries, only eight are actually ready to open their doors.
Only one of four planned medical marijuana dispensaries for New York city is ready to begin dispensing medication to patients. Owned by Columbia Care, the collective is located near union Square. Additional locations are expected to open in all five boroughs, in the coming weeks, including Elmhurst, Murray Hill, Queens, and the Hunts Point section of the Bronx.
The Katonah-based company, Etain LLC., won state approval to dispense in the town of Ulster, Albany, Schenectady, and Yonkers. However only the locations in Ulster and Albany, are ready to begin seeing patients. According to a spokesperson for the company, a third location in Syracuse will be opening in the next two weeks. Etain is currently in talks with officials in Yonkers, where the company  has been searching for a location for its final dispensary.
PharmaCann has two locations ready to open in Erie and Onondaga counties. However, the company's chief executive, Teddy Scott, says that fine details still need to be ironed out. "It's just the final walk-throughs," Scott said. "Before you buy a house you go through and do a walk-through to make sure it's not screwed up." The company, headquartered in Illinois, is scheduled to open it's other two locations, in Albany and Hunts Point in the Bronx, later this month. PharmaCann says that they will be releasing their cannabis pills, and other non-smokable marijuana products on a rolling basis. "Some are quicker than others," said the company's chief executive. "They have different growing characteristics."
Dr. Howard Zucker, the state health commissioner, commented on Governor Andrew Cuomo's "extremely ambitious timeline" to launch New York's Medical Marijuana Program. "I am pleased that we have met his goal," said the commissioner in a recent statement.
For those patients who live to far from a dispensary, or are unable to travel to one, the department of health has requested that all five of the medical marijuana companies licensed in New York, make deliveries available.
All New York patients diagnosed with one or more of the following severe, debilitating, or life threatening medical conditions, are eligible for the state's medical marijuana program: Cancer, HIV / AIDS, amyotrophic lateral sclerosis (ALS), Parkinson's disease, multiple sclerosis, or damage to the nervous tissue of the spinal cords with objective neurological indication of intractable spasticity, epilepsy, inflammatory bowel disease, neuropathy, and Huntington's disease.
State law requires all eligible patients receive a doctors certification, to register for the program. The law also dictates that, all physicians participating in the program first complete the required four-hour online continuing medical education (CME) course.
All eligible New York patients looking for a qualified, board-certified physician to evaluate their case, are advised to visit MarijuanaDoctors.com – the only trusted online network of medical marijuana physicians qualified to evaluate eligible patients for the NY Medical Marijuana Program.