Not All Wounds Are Visible – PTSD Stricken Veterans Speak up for Safe Access
Posted by Marijuana Doctors on 11/12/2013 in Medical Marijuana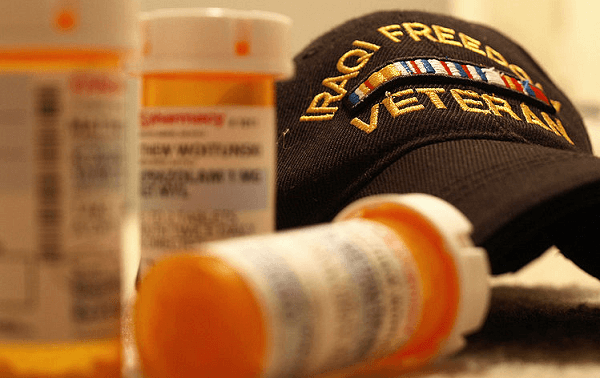 Veterans Day is a time to honor those who have dedicated time in their lives and fought on behalf of our country. Nationally, we pay homage to the citizens who have given up their freedom to sustain that of our countries. In memorials, services and celebrations, we pay tribute to some of our greatest heroes around the United States. Surely, I don't have to make an argument defending the absolute virtue and integrity that some of our country's bravest individuals have lived up to. America's veterans are undoubtedly respected and admired throughout our country, however many are denied their most basic right. In a study released by the Department of Veterans Affairs in February of 2013, jarring statistics showed that 22 veterans take their own lives every single day – one suicide every 65 minutes. Notably, in recent years, significantly more US veterans and military members have died by suicide, than while in combat.
Veteran Mike Whiter served In the Marines for 11 years, partaking in combat tours in Kosovo and Iraq. After a medical discharge, Whiter approached the Veterans Administration for urgent assistance regarding his Post Traumatic Stress Disorder, in addition to his physical injuries. He was put on 36 different medications in a span of 6 years. "I was on methadone and morphine, benzos, klonopin, xanax, SSRIs…You name a drug, I've been on it," said Whiter. "I couldn't sleep, I was having nightmares, I couldn't leave my house – I was afraid to leave my house." Whiter developed an understanding, first hand, of the grave consequences SSRIs could have for veterans, and their suicidal tendencies. "SSRIs have suicide listed as a side effect," he said. "And they're giving these pills to people who are already suicidal."
After gaining insight towards cannabis and Post Traumatic Stress Disorder by watching specials featured on the Discovery Channel, Whiter began to believe medical marijuana would be the proper source of treatment for his condition. Since he began using marijuana, Whiter has been able to stop taking all of this other prescription pharmaceuticals. He no longer experiences painful flashbacks, sleepless nights and self-induced isolation. He is now the founder of Pennsylvania Veterans for Medical Marijuana and the co-director of Philadelphia NORML. He has transformed his once crippling social anxieties and fears into causes for not only advocacy, but activism. He has additionally been a featured speaker at numerous rallies and public events.
Whiter has tapped into and relied on his self-knowledge to take the proper steps in safely medicating with cannabis, not everybody in similar positions have the same resources and support to switch from pharmaceuticals to medical marijuana. Though the shift in medications may be drastic, veterans like Whiter who have made the change tend to never look back. "Marijuana saved my life," said Whiter. "And when I say that, I'm not exaggerating at all. Those medications would have killed me if I hadn't taken my own life first. The medications that the VA prescribes are killing veterans."
Medical marijuana is seldom, if ever looked at as a primary option for treating anything, let alone Post Traumatic Stress Disorder. Marijuana, however beneficial it may be, is almost always treated as a last resort – after pharmaceuticals have severely failed. Though problematic for a host of different reasons, the stigma attached to marijuana is perhaps the greatest flaw our country still holds true. The social stigma our country has attached to marijuana does not disappear with the addition of "medical" placed in front of it. Unfortunately, people in power positions around the country have denounced marijuana's medical legitimacy altogether, saying that they do not believe in it as if it's a supernatural occurrence. Because people tend to hold on to such serious implications as these stigmas, the medicalization of marijuana is often overlooked altogether. Like this, we are led to believe that marijuana's medical benefits are not tried and true. However, as Whiter and so many other veterans will testify, the power is in the plant.
Yesterday, Veterans from around Pasco Country, Florida gathered in front of the Veterans Affairs Outpatient Clinic to rally in support of legalizing medical marijuana. Among others, several citizens held signs that read, "Vets for Cannabis." Jodie James, executive director of the Florida Cannabis Action Network noted that part of the reason for choosing that specific location was the fact that so many veterans who are currently being treated for post-traumatic stress disorder reside in that community. Just one year ago, a veteran was committing suicide every 80 minutes. Now, James points out, veterans take their own lives once every 62 minutes. The legalization of medical marijuana is quite literally, a matter of life and death.
Currently, Post Traumatic Stress Disorder is a qualifying condition for state-legislated medical marijuana programs in only 7 of the 20 legal states and the District of Columbia. What this translates to is 43 states where veterans utilizing marijuana to combat their PTSD are viewed as criminals. Veterans in legally obtaining states seek the same treatment as those in states where marijuana is not legal. A state border does not define marijuana's medical efficacy. For the people who have risked their own lives for the sake of our country, isn't it only right that we grant them the legal permission to medicate at their own discretion? During the rally for legalizing medical marijuana, James said, "We have a medicine that we believe is going to be more effective than the current course of treatment if we can simply change the laws."