NFL Commissioner Weighs In On Potential For Allowing Its Players To Smoke Medical Marijuana
Posted by Marijuana Doctors on 01/13/2014 in Medical Marijuana News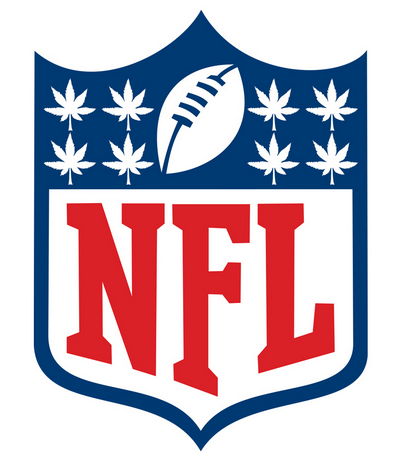 In a surprising turn of events, National Football League Commissioner Roger Goodell said that he could strongly envision injured football players using legalized medical marijuana at some point to treat debilitating injuries. As part of a wide-ranging interview that took place with ESPN.com, Roger Goodell opened up about allowing players to use the drug as a means of effectively treating injuries in states where it was already legal.
Known famously for handing down some of the harshest penalties in the National Football League's ninety-four year history, Goodell is a no-tolerance Commissioner who issued major suspensions following the revealing of the New Orleans Saints bounty program. He suspended then former Saints defensive coordinator Gregg Williams, Saints head coach Sean Payton for the entire 2012 season, general manager Mickey Loomis for eight games and assistant head coach Joe Vitt for six games. Additionally, Goodell fined the Saints a league maximum of $500,000 and stripped the organization of their second round draft picks in 2012 and 2013.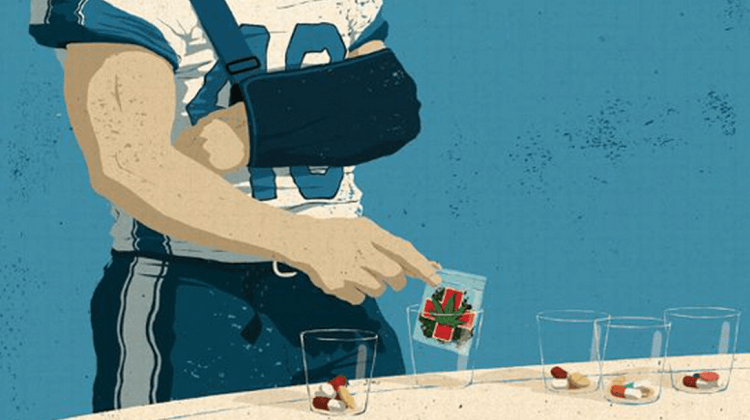 While marijuana use is currently banned by the National Football League, players are randomly tested for the presence of recreational or performance-enhancing drugs in their system as part of the league's protocol procedures. Commissioner Goodell said that he believes players and teams should take a more conservative approach towards players returning to action after experiencing serious injuries. Specific injuries that were mentioned included concussions, a recent medical issue that has gained an increased sense of popularity and attention after the deaths of Ray Easterling, Dave Duerson and Junior Seau. With more information becoming gathered about the long-term effects of head injuries and football, it is believed that Commissioner Goodell will be placed in a position where he is left with no choice but to allow marijuana use.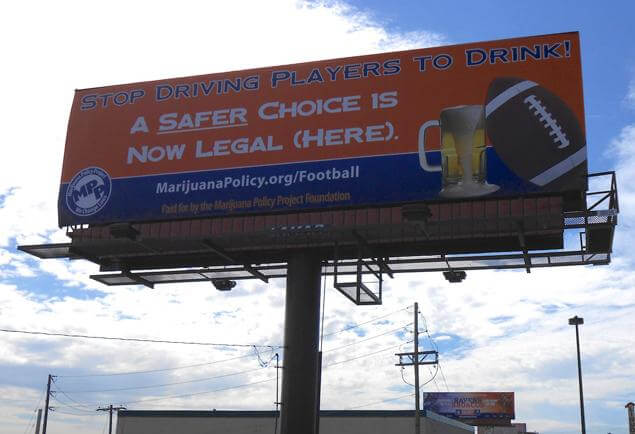 (Above: Above: A pro-marijuana billboard that sits outside the home of the Denver Broncos at Sports Authority Field at Mile High. Broncos fans watched their team play the first six games of the season without star linebacker Von Miller, who was suspended for violating the N..F.L.'s drug policy involving marijuana..)
Although Goodell make it clear that he does not know what is going to develop next as far as the opportunity for medicine to evolve, he vowed to continue to show an influx of support towards the evolution of medicine in order to help either deal with pain from any conditions or help deal with injuries in football players.
If one thing is certain, it is that it has been a big year for N.F.L. fans who reside in either Denver or Seattle. On the gridiron, the Denver Broncos and the Seattle Seahawks have had absolutely dominant regular seasons and have found themselves cruising into the playoffs. Off the field however, marijuana ballot initiatives that passed in 2012 have both went into effect, making it legal for adults in Colorado and Washington to possess and consume marijuana.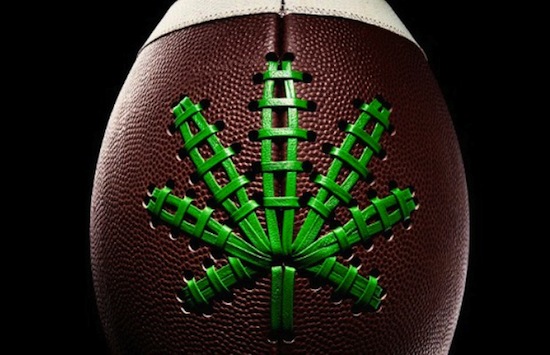 Both the Broncos and the Seahawks have each lost key players this season due to marijuana-related suspensions. Denver's Von Miller missed the first six games for allegedly failing drug tests and failing to comply with league drug testing, and the Seahawks lost starting cornerback Walter Thurmond for four games during the latter part of the season, reportedly for testing positive for marijuana. To make matters worse, less than a month later, league officials suspended Seahawks cornerback Brandon Browner indefinitely for failing a drug test. Yet again, it was believed that marijuana was the culprit.