New York State Is Already Hiring for Jobs In The Medical Marijuana Industry
Posted by Marijuana Doctors on 10/20/2014 in Medical Marijuana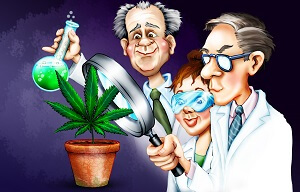 Now that the ceremonial bill for New York's medical marijuana program has been signed, the real process of developing and implementing the actual program really begins. And New York is wasting no time in looking for highly qualified professionals to fill the required positions.
Recently a job was posted online looking for Research Scientists to test and study analytical chemistry, while also playing a vital role in supporting quality assurance for the State's medical marijuana program. The appointed individuals will be involved with all aspects of regulations of application, and approved commercial laboratories offering testing of medical marijuana products. Working closely with the Department of Health, these experienced chemists will manage all phases of a multisite clinical research trial, to be conducted in New York State. They will also be expected to coordinate the Internal Review Board Approvals, prepare the required Federal Food and Drug submissions, and provide reporting required by the Drug Enforcement Agency.
Not small shoes to fill, the senior scientist is required to have a Bachelor's degree and three years of professional research experience in Chemistry, or a related field, a Master's degree with at least two years of related experience, or a doctorate in the associated field. Special attention will be given to candidates with an ability to critically evaluate and interpret scientific studies and data, with experience in any aspect of conducting and assessing multi-media human health risk and outcome, and with experience conducting clinical trials. While no candidates, are permitted any association with individuals involved with cannabis product production, or distribution, or any commercial labs performing cannabis-related testing.
When asked his views on the recent job posting, Jason Draizin, the CEO of MarijuanDoctors.com, was quoted as saying, "This job posting proves that New York's medical marijuana program is going to be carefully developed, operated, and monitored, by highly skilled professionals with serious credentials and experience. In support of this, and to assist in the expedition of the program development, MarijuanaDoctors.Com has created 4 hours worth of educational data and information to help New York physicians obtain the 2-4 CME credits required to be compliant with the New York Compassion Act."