New York: Rallies Begin in Final Push for Medical Marijuana Bill June 20th
Posted by Marijuana Doctors on 06/18/2013 in Medical Marijuana News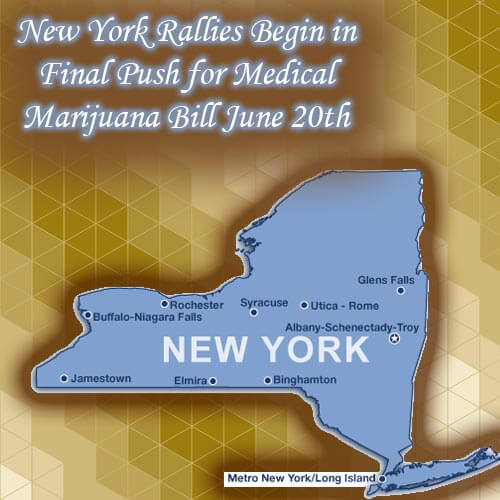 As the end of New York State's legislative session approaches, patients and community members alike from across Long Island gathered at one designated area to make a final push to support a proposed medical marijuana measure that makes its way through the state's legislative body.
With the end of the state's legislative session only less than one week away, supporters from across Long Island gathered at the Garden City train station to mobilize more bolstered support of New York's medical marijuana bill. Individuals collected signatures and handed our numerous flyers that urged neighbors to contact their senate leadership representative and demand a vote on the Compassionate Care Act. This measure must be brought before the senate before the end of the legislative session, which is currently set to come to a close on June 20th.
The Compassionate Care Act would be responsible for establishing one of the nation's most tightly-regulated medical marijuana programs and would allow for seriously ill patients to safely-access a small amount of marijuana under the supervision of a healthcare provider. This particular measure could potentially serve as a model for years to come, as state lawmakers who proposed the bill have had a fair amount of time to take into consideration the previous mishaps and follies of current legalized medical marijuana states.
Earlier this month, the New York State Assembly passed the measure with a bipartisan vote of 99-41. This was the widest margin of victory out of the four times that this measure has been passed through this chamber. It should be no surprise that the Compassionate Care Act is garnering so much support and recognition, as a recent poll conducted by Siena College portrayed an astonishing eighty-two percent of support from New York voters. That same poll featured eighty-one percent of both Democrats and Republicans as supporting medical marijuana for seriously ill patients.
However, despite the broad support for this measure that spans from patients, to caregivers, to health providers and even the general public, this measure has never been able to make it to the Senate floor and receive a vote. Long Island Senators such as Dean Skelos and Health Chairman Kemp Hannon are those who have the power necessary to bring the bill to the Senate floor. Whether or not they will make the compassionate push is still to be determined. It must be recognized though; we are running out of time New York.
Currently, eighteen states and the District of Columbia have passed regulatory medical marijuana bylaws to create legal access to medical marijuana for seriously ill patients. Physicians in every state bordering New York, except for Pennsylvania, have the ability to recommend medical marijuana as an effective alternative treatment option. There has been a significant amount of scientific evidence to establish the efficacy of medical cannabis for certain conditions. There is no reason why patients who greatly suffer from multiple sclerosis, chronic and debilitating pain and muscle spasms and wasting syndromes should have to continue to suffer and take prescription opiates. Compassion starts now New York, and time is running out.
Marijuana Doctors Recent Posts