New York: Medical Marijuana Debate Heats up with New Bill
Posted by Marijuana Doctors on 04/18/2013 in Medical Marijuana Laws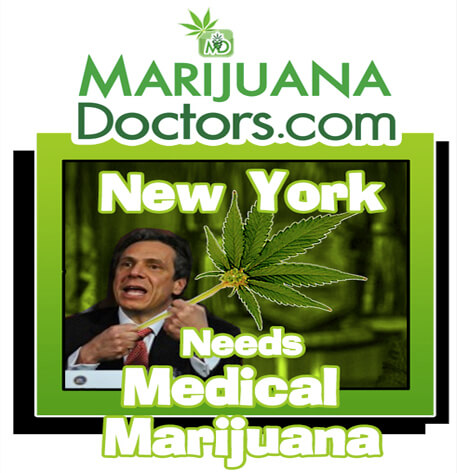 An ongoing debate over a proposed pot measure to legalize marijuana use for specified illnesses is finally beginning to heat up this week in the New York legislation. Proponents are showing signs of great optimism by stating that they firmly believe for the first time, this measure has a chance to pass in both chambers of the state's legislation. This renewed push to make marijuana legal for medicinal use comes after numerous failed attempts by New York lawmakers to utilize this bill to its full potential.
New York Senator Diane Savino and Assemblyman Richard Gottfried have been active medical marijuana advocates and have sponsored legislation in the past that was directed towards the introduction of medical marijuana to the state. Savino, hailing from Staten Island and Gottfried, a representative from Manhattan, are holding a news conference on Tuesday in the state's capital in order to promote a measure they introduced last month. The measure would allow doctors to prescribe medical marijuana to individuals who are suffering from specified "serious" conditions, including cancer, HIV or AIDS and multiple sclerosis. Gottfried has championed three medical marijuana measures (2007, 2008, and 2012) in the past, all of which have passed through the state's Assembly but have died out in the Senate after not gaining enough support. For once, Gottfried believes that this time might be different and that his proposed measure may gain enough support.
Polls conducted by Quinnipiac University and Cornell University in 2010 showed that about two-thirds of New Yorkers favor the allowance of marijuana for medicinal purposes. I imagine that since 2010, medical marijuana has gained a rising support among New Yorkers. Currently, federal law deems marijuana as a Schedule I narcotic and lists it as having the same abuse potential as heroin and LSD. However, that has not stopped eighteen states and the District of Columbia from legalizing medical marijuana.
Assemblyman Gottfried, who serves as the chair of the Assembly Health Committee, will see his measure be voted upon within his committee on Tuesday. He said that he believes the measure will pass in the house within the next month or so and stated, "I'm optimistic this year partly because polling data continues to show a rising level of public support." The state's Senate bill is also in the Health Committee, which is chaired by Senator Kemp Hannon, a Republican out of Garden City. Senator Hannon has not signaled how he views this measure just yet.
However, a main obstacle within the journey of this measure will be having this bill pass through Senate only to make its way to Governor Andrew Cuomo's desk. Governor Cuomo has in the past stated his opposition to legalizing medical marijuana, but Gottfried is hopeful that the Governor could be persuaded for the better. Cuomo continues to express concerns about establishing a functioning medical marijuana program in New York, but perhaps this year the language of the measures is crafted so carefully to be considered. "From informal discussions I've had with executive staff, I am hopefully that if a tightly drafted bill like this begins to move in the Senate, we can work with the executive to address any concerns they might have," said Gottfried.
Senator Savino believes that the measure's language, which is patterned on bills that were passed in states such as Connecticut, New Jersey and Colorado, addresses all necessary concerns that marijuana could be recommended to an individual who does not need it, or diverted for recreational use. However, opponents comprised of a group of addiction experts hailing from Long Island are preparing to meet with legislators on Wednesday in Albany to argue that the bill is still too lax.
The measure legalizes possession and use of up to 2.5 ounces of marijuana for patients who suffer from debilitating and life-threatening conditions. Their physician must firmly believe they are likely to receive therapeutic or palliative benefit from the use of medical marijuana. Patients would have to register with the state and businesses or organizations that wish to sell the marijuana. These locations would also have to register and pay a tax of $250 for each pound of marijuana. Manufacturing may only take place in an indoor and secure facility.
Marijuana Doctors Recent Posts