New York Marijuana Legislation Proposed for Recreational Use
Posted by Marijuana Doctors on 12/13/2013 in Medical Marijuana Laws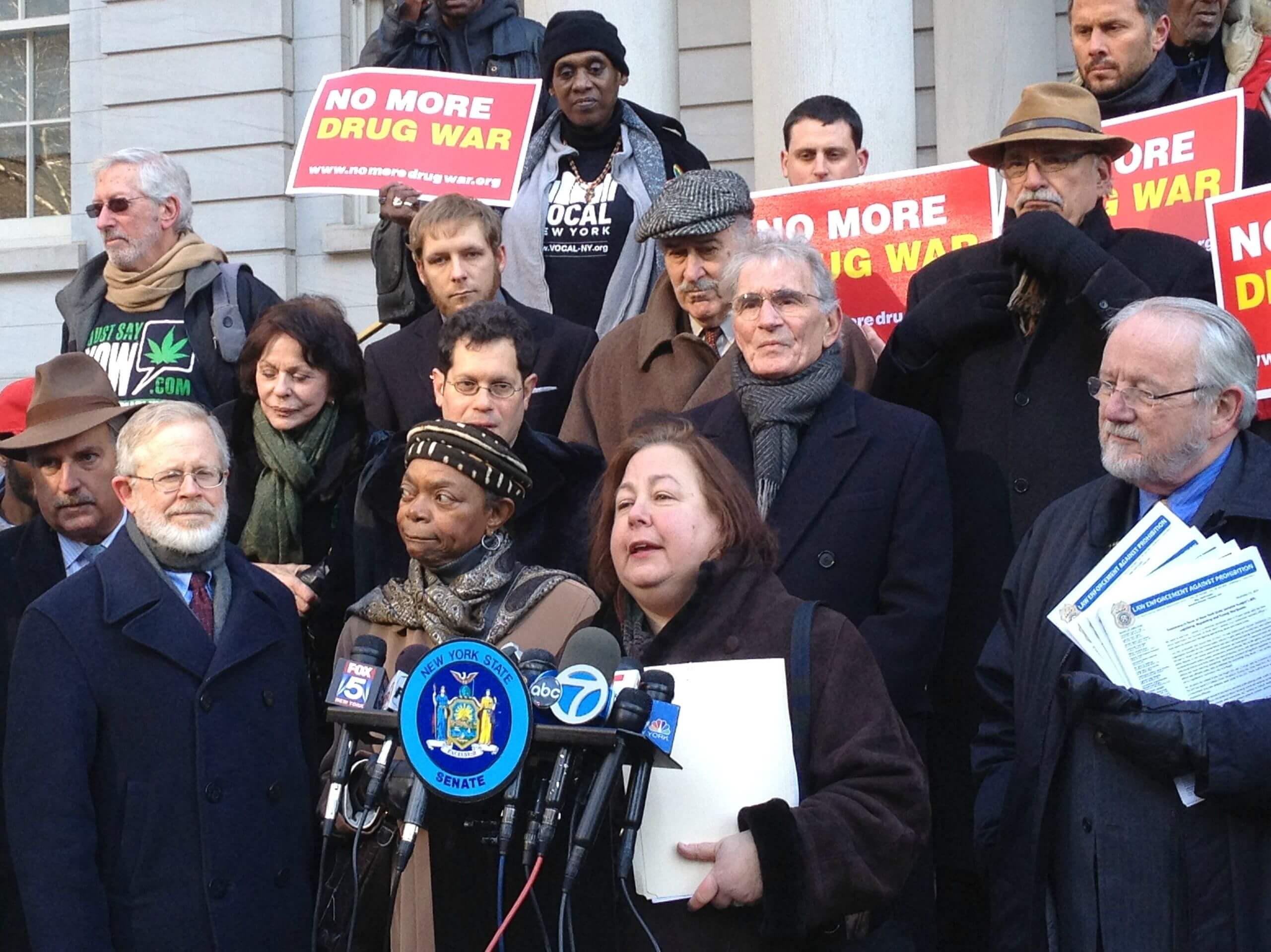 All are in agreement that it is high time the widely liberal state of New York got on board with marijuana legalization. With twenty states and the District of Columbia having medical marijuana laws already in place, and Colorado and Washington recently legalizing marijuana for recreational usage – shifting policies are sweeping the nation. Just two days ago, State Senator Liz Krueger along with a number of other Democratic politicians gathered together in a push to legalize and tax recreational marijuana in the Empire State.
In an attempt to treat marijuana's distribution the way alcohol is distributed – by taxing and regulating its sales – Krueger introduced a bill proposition known as the Marijuana Regulation and Taxation Act. The bill would work to legalize, regulate and tax marijuana in a similar manner to that of alcohol regulation laws. The bill would eliminate penalties for possession of two ounces of marijuana or less, establish the minimum age legal age for possession at 18 years, and prohibit sales to citizens under 21. A base tax of $50 would be put forth per ounce and local authorities would have the ability to charge sales tax on retail sales.
In a press conference that took place on the steps of City Hall, Krueger said, "Am I supporting this legislation because I think everybody should go out and smoke marijuana or because I want to smoke marijuana? No." She went on to defend the plant, "I don't believe a drug that is proven to be less dangerous, from a health perspective, than alcohol or tobacco should be under laws that actually criminalize and ruin lives when alcohol or tobacco are regulated and taxed." New York Assembly Health Committee Chairman Richard Gottfried said at the press conference, "We really need to move beyond our totally broken prohibition model to a sensible tax and regulate model. I think it's widely recognized that marijuana is at most nowhere near as potentially harmful as alcohol and our law is dishonest."
New York City Comptroller, John Liu, who this past summer, addressed the terribly misguided war on marijuana and its detrimental, damaging impact particularly in minority communities has estimated that taxing both the commercial production and retail sale of marijuana to adults would yield approximately $1.65 billion, in Manhattan alone. "It's time for us to implement a responsible alternative.
Regulating marijuana would keep thousands of New Yorkers out of the criminal justice system, offer relief to those suffering from a wide range of painful medical conditions, and make our streets safer by sapping the dangerous underground market that tagets our children. As if that weren't enough, it would also boost our bottom line."
The revenue generated by marijuana's regulation in New York state should be used to reduce CUNY tuition for New York City residents by as much as 50 percent, Liu proposed. "In this way, we'll invest in young people's futures, instead of ruining them." Liu continued, "By regulating marijuana like alcohol, New York City can minimize teens' access to marijuana, while at the same time reducing their exposure to more dangerous drugs and taking sales out of the hands of criminals."
Further supporting these ideas are the social arguments brought to surface surrounding highly disproportionate racial disparities in state marijuana-based arrests. Blacks and Hispanics constitute 45 percent of cannabis users in New York City, however, make up 86 percent of possession arrests in the state. And while whites and Asians compose 55 percent of marijuana users, only 14 percent undergo arrests.
Since Bloomberg took office in 2002, 460,000 misdemeanor marijuana arrests have taken place. Speaking amongst sympathetic legislators, activists and members of the Law Enforcement Against Prohibition and Drug Policy Alliance, Krueger had this to say regarding the stark racial disparities in marijuana arrests,"It will end discriminatory drug arrest policies that disproportionately impact minority communities. It will free up our law enforcement resources for better use to go after real criminal activity. It will take the market in marijuana away from the criminal enterprises, just as happened when alcohol prohibition was ended. It will provide additional tax revenue to the state, some of which can be reinvested in communities most impacted by drug abuse and the failed drug wars…"
Krueger addressed the enormously flawed war on drugs and rhetorically posed the question to the citizens surrounding her, "Why now?" Here's why, "New York has had proposals on medical marijuana and decriminalization law reform on the table for a number of years, but unfortunately, no action..I think it's time to push the envelope and recognize the fundamental flaw in marijuana policy based on the concept of Prohibition."
Activists argued alongside Krueger that the drug laws currently in effect perpetuate a discriminatory jailing system, disproportionately keeping black and Latino communities incarcerated for minor crimes of possession. Just as ending prohibition did for alcohol, activists and advocates alike believe the ending of prohibition 4.20 will eliminate the black market for cannabis.
With nearly 70 percent of our country in favor of legalizing marijuana in recently conducted Gallup polls, Krueger added, "For one thing, public opinion polls show the public is with us on this issue." She told the Politicker, "Mothers are some of the strongest proponents of wanting this changed in law. So, from urban moms who see their kids in stop-and-frisk getting busted to suburban soccer moms, they are the voice of support for this kind of legislation. And my experience, when women in this country decide they want change in laws, we are often successful in getting them."
Historically, prohibition in our country has systematically failed. Krueger addressed this universally recognized issue. "Prohibition of marijuana is a policy that just hasn't worked, no matter how you look at it, and it's time to have an honest conversation about what we should do next." In a statement, Krueger said "The illegal marijuana economy is alive and well, and our unjust laws are branding nonviolent New Yorkers, especially young adults, as criminals, creating a vicious cycle that ruins lives and needlessly wastes taxpayer dollars."
While the legalization of recreational marijuana in the Empire State may be a ways away, this kind of honesty-driven, compassionate exposure by state lawmakers is exactly the kind of press marijuana not only needs, but warrants. After years of unjust exploitation and falsely stigmatizied attention, the harmlessness of cannabis is finally being recognized by not only physicians, but state lawmakers.
"This is not an effort to encourage or expand marijuana usage, but a recognition that there is marijuana usage and has been forever," Krueger said. "And we have to stop wasting lives and wasting police power and our courts and enormous amounts of money trying to convince everyone that they will go to hell or jail if they use marijuana."