New Study Suggest Cannabis May Prevent Diabetes
Posted by Marijuana Doctors on 05/31/2013 in Medical Marijuana Studies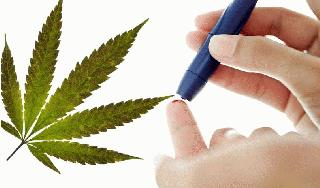 A recent study on marijuana and diabetes has concluded that consuming marijuana in deed provides medical benefit in a significant manner.
"Previous epidemiologic studies have found lower prevalence rates of obesity and diabetes mellitus in marijuana users compared to people who have never used marijuana, suggesting a relationship between cannabinoids and peripheral metabolic processes, but ours is the first study to investigate the relationship between marijuana use and fasting insulin, glucose, and insulin resistance," says lead investigator Murray A. Mittleman, MD, DrPH, of the Cardiovascular Epidemiology Research Unit at the Beth Israel Deaconess Medical Center, Boston.
Although nothing was proven beyond a shadow of doubt researchers found that not only does cannabis users have a smaller waists than nonsmokers, lower body mass index and so on. All of the observations indicated that cannabis does have a substantial impact on providing better health and improving patients' conditions.
The tests were conducted on "smokers" but the real question remains on what would have happened if they did the same studies on people who consumed essential hemp oils. Empirical testimonies have showed how patients have controlled their blood sugar levels by simply using essential hemp oils. Even the researchers stated that further clinical trials should be conducted on cannabis however under the current federal law of prohibition this is not possible. The researchers would have to obtain approval from the FDA who requires approval from the DEA who has never allowed a study to be conducted that "proves beneficial for marijuana".
In essence we are on the verge of discovering new approaches to deal with the diabetes epidemic but we have the federal government standing in between millions and a potential organic and very healthy treatment for diabetes. We have a branch of the government prohibiting medicine from the ill.
This study on diabetes and cannabis consumption is only the tip of the iceberg when it comes to cannabis as a medicine. This is only one example on how the DEA and the drug prohibition is hindering the evolution of mankind. Special interest groups are gambling with the lives of the masses for gold and power and while humanity is slowly waking from its slumber…we are still playing by "their" rules.
It's time to stand up and take this into our hands…like we did before with alcohol it is time once more for society to set aside their differences and legalize cannabis and the potential health aspects associated with this miracle plant.
Marijuana Doctors Recent Posts