New Rules Qualify Children in Illinois For Medical Marijuana Program
Posted by Marijuana Doctors on 01/21/2015 in Medical Marijuana News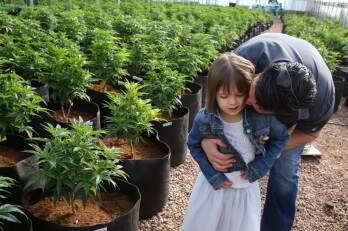 Children diagnosed with debilitating medical conditions, living in the State of Illinois, are no longer being locked out of the Illinois medical marijuana program. State officials recently released the new set of rules that amend the state's medical marijuana pilot program to include children diagnosed with debilitating medical conditions.
The initial rules excluded all patients under the age of 18 years, despite their diagnosis. However, the amended rules, which became effective January 1, 2015, will allow for children of any age, diagnosed with a qualifying medical condition, to become a patient of the state's program. The rules state that children enrolled in the program will have access to marijuana-infused products – strictly no smoking of the flower will be permitted by any minor.
The rule amendment is the result of a group of parents who campaigned the state to open the program to children, especially those suffering from debilitating epileptic seizures. And stipulates that in order for a child to qualify for the program, the primary care physician must sign off on all required paperwork, along with a second physicians review and authorization, and signed permission from the parents.
However, the battle for many parents is not quite over just yet, as many physicians remain skeptical of medical marijuana in its potential benefit vs risk. And when taking the wellbeing of a child into consideration, many physicians remain weary of prescribing medication that to date still has no empirical scientific data to validate its claim of medical benefit. "Physicians will be hesitant to put their name behind authorization for a child to take an experimental treatment, comments Dr. Joel E. Frader, a bioethicist and pediatrician at Lurie Children's Hospital in Chicago. "I know there are a lot of parents who feel desperate, and my heart certainly goes out to them. In Illinois, there has been pressure put on the state legislature and the regulatory process to increase the scope of use for medical marijuana by families who look at this as their last hope."
Chicago-based physician, Dr. Leslie Mendoza Temple, who lectures on medical marijuana for the Illinois Academy of Family Physicians, says that in her opinion, "There is good evidence of long-term harm of chronic marijuana use on the developing brain under 18 years of age." Dr. Temple believes medical marijuana treatment is still experimental and should only "be considered when all other therapies have been exhausted and failed, and if the child is quite debilitated."
MarijuanaDoctors.com CEO and founder, Jason Draizin, who runs the New York-based online company that helps patients in all the legal state's find a marijuana doctor near them, commented that although parents are still going to experience some difficulties initially, the State did the right thing in opening the program up to children suffering from severe and debilitating medical conditions, especially those suffering from life-threatening seizures. "What most people forget is that these conditions not only affect the life and wellbeing of the child, but it affects and severely impacts on the lives of the parents and siblings as well. If high CBD marijuana, like the Charlotte's Web strain out of Colorado, can help parents bring these seizures under control then we have a responsibility to our communities to give them access to medicine that can actually help their kids live a life of quality."