New Rule Proposed in Florida Medical Marijuana Program
Posted by Marijuana Doctors on 08/01/2014 in Medical Marijuana News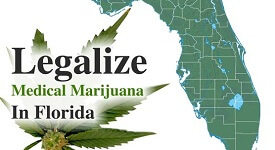 Location: Tallahassee, Florida | Source: WESH.com Orlando
Tallahassee, Fl. – Under a new revised rule suggested by health regulators, future Florida cannabis dispensaries may be able to directly truck their medicine to patients. This proposed rule came just a day prior to a workshop being held today regarding the state's move to a limited type of medical marijuana.
With the new rule regarding the actual delivery of medical marijuana patients is the proposal of loosening restrictions on who may actually have ownership in a dispensing or cultivating organization. Currently, nurseries with no more than one-quarter ownership of any cannabis distribution business would be eligible for one of the 5 licenses. Even though multiple complaints were brought in front of a rule-making workshop earlier this month, state health officials are as of now, standing firm on their plan to use a lottery based system when choosing who will be awarded the states limited production licenses. The hope and competition for those limited licenses have brought out businesses and investors from across the globe.
Those in charge of the program have until the first of next year to come up with the rules, regulations, and framework that will handle a specific strain of marijuana that will not get individuals high but will contain high amounts of the therapeutic compound CBD. The state's new law would allow patients who suffer from severe muscle spasms or cancer to be eligible to receive marijuana that is low in tetrahydrocannabinol (THC) but high in cannabidiol (CBD). Applicants wishing to dispense marijuana for patients in the state must meet a list of pre-qualifying conditions before they can even apply. To qualify nurseries must have been doing business in the state for a minimum of 30 years, grow 400,000 plants or more annually, and be financially able to support a $5 million dollar performance bond. With those criteria in mind, the Department of Agriculture and Consumer Services has identified at least 50 nurseries across the state that meet these requirements.
With the potential for the state's medical marijuana market to be one of the largest in the nation, many nursery owners have been seeing a hailstorm of offers from investors and third-party operators looking to carve their piece of the newly created industry. The result is many nursery owners hiring lawyers and lobbyists to help them wade through the murky waters of regulations that have yet to be created.
By allowing only one dispensary for each section of the state the program aims to keep the distribution network as small as possible while still serving patients adequately. Additionally, the dispensaries are permitted to implement "an infrastructure reasonably located to dispense low-THC cannabis to registered patients statewide or regionally as determined by the department."
A newly drafted rule introduced at the last rules meeting would allow dispensaries to directly deliver a 30-day supply of medical cannabis to their qualifying patients. Individuals who are hoping to win these coveted licenses are split on the topic of transporting their medication. "An infrastructure cannot be a truck. An infrastructure is a place" Says Louis Rotundo, a lobbyist who represents the Florida Medical Cannabis Association. The association consists of growers, investors, and other parties interested in joining Florida's emerging cannabis industry. The same proposed rule change would also open the doors for dispensaries to deliver to patients across the state, not just in the region where they are located.
"A regional distribution system has no checks and balance and will punish the patient through cost and availability. A patient should be able to choose the best medicine regardless of where it is grown," said Ron Watson, another representative of the Florida Medical Cannabis Association. The current version of the proposed rule restricts applying nurseries to applying in only one region, this is to ensure that at least 5 different businesses will be able to compete in the new industry.
One of the low-THC measures biggest supporters, Rep. Katie Edwards said she was happy that state health officials took the concerns expressed at the last meeting seriously. She claims however that the million dollar question facing officials is how the original cannabis plants, seeds, or tissue cultures will legally pass into the hands of the state's growers. Recently University of Florida scientists announced they would not participate in research or use the $1 million dollars set aside in the bill for the university to study the effects of low-THC, high-CBD cannabis on epileptic children. University officials cited the possible loss of millions of dollars in federal grants should they agree to participate in the study.