New Oil "710" Vaporizer Pen Hits The Medical Market
Posted by Marijuana Doctors on 01/13/2014 in Marijuana Recipes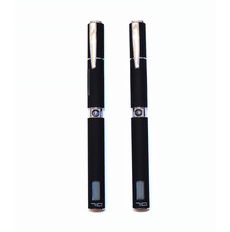 Upon receiving my 710 Vaporizer Pen, the first thing a consumer is going to notice is that this portable vaporizer pen has a sleek and sophisticated design which leaves you fairly impressed. While the box itself that the 710 vaporizer pen comes with is rather modern and easy to carry, it features the brand's signature logo with the numbers "710" appropriately listed across the front. However, if there is one thing that I have come across numerous time while reviewing portable vaporizers and portable vaporizer pens, it is that design can be deceiving at first glance. Could it walk the walk?
When you first receive your 710 Vaporizer Pen, the actual design of the pen is something that gives both the look and the feel of a regular pen that you would write with. While it is very lightweight, a consumer such as myself has the ability to nearly be able to bring this pen anywhere because of its overall design (easy to store) and the fact that it weighs almost nothing. What immediately sticks out is the 710 Pen's LCD display, a nice touch that allows the consumer or patients to be granted the ability to know whether or not the current temperature is appropriate for what you are vaporizing. On top of depicting temperature data, the 710 Pen's LCD display screen also portrays how much battery life is left within this vaporizer.
Now, I know what you're thinking: with an LCD display, that definitely means that the 710 Pen has a short-lived battery life that'll be over before you can finish your toke — right? Wrong. Believe it or not, the 710 Pen's battery life manages to hold up very well. Those who use this particular pen will be able to receive around three-hundred draws (or puffs) from this magnificent device. Additionally, unlike many other portable vaporizers, the 710 Vaporizer Pen has one of the shortest possible heat-up times and is ready to go within well under six seconds.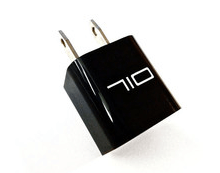 While some patients and consumers prefer herbal blends to throw into a portable vaporizer, there's some that prefer oils or waxes instead. The only available functionality of this vaporizer is to work with oils or waxes. Had this vaporizer been able to accommodate an herbal blend as well, it would be one of the holiday season's most hotly-touted items. Regardless, this is a great vaporizer if you are using it for its intended purpose. I was also very pleasantly surprised to find a USB charger in my 710 box, alongside a cube charger that would resemble that of an iPhone charging USB dock. Clearly, this is a company that is up to date with the times and is ready to head a class of vaporizers that will be unrivaled to say the least.


I will admit that this vaporizer has minimal drawbacks, but none that are considered too detrimental to its rating. Aside from the company's three-month warranty on the 710 Pen's heating element, there are no comprehensive set of instructions provided with the pen other than a little folded booklet that has bare minimum instructions. While for me it was easy to put the pen together, for others this may be a difficult task if this is their first pen. However, for under one-hundred dollars, providing three-hundred puffs to patients and with a sleek and sexy design — this is a great pen in the making.