New Mexico Physician Assistant Fired Over Medical Marijuana
Posted by Marijuana Doctors on 08/08/2014 in Medical Marijuana Laws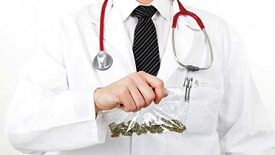 Location: Albuquerque, New Mexico | Source: Fox Business
Albuquerque, New Mexico – A New Mexican medical professional who is also a medical marijuana patient has been fired by the health care provider she briefly worked for in February of this year. Donna Smith, a physician's assistant, claims that Presbyterian Healthcare Services violated her rights after it fired her for testing positive on a drug test she was required to take.
Mrs. Smith becomes one of the latest medical cannabis patients to sue in an effort to establish protections for individuals who have been terminated for their involvement in the state's medical marijuana program. With her lawsuit being filed sometime in June, Mrs. Smith's attorney is hopeful a hearing date will come soon. Smith was employed at Presbyterian for four (4) days this past February, she was ultimately fired after a urine test came back positive for THC, the active ingredient in cannabis.
According to Mrs. Smith's lawsuit she had previously submitted physician signed paperwork in addition to her state-issued medical marijuana card, however Presbyterian officials stated providers cannot participate in the medical marijuana program. The plaintiff, who is a military veteran, was diagnosed with post-traumatic stress disorder upon completion of her service. She became a medical marijuana user after multiple other prescription medications had failed.
Her attorney argues that employers should not have the ability to control or stiffen employee access to treatment options that are legal and accepted under state law, or those patients who hold medical cannabis licenses. "Individual rights and liberties of an adult to be able to address their issues and treat themselves in a health way pursuant to the laws of their state are what's at stake here." Attorney Jason Flores-Williams said in a statement Wednesday.
Ironically in 2007 New Mexico became the first state to create a medical marijuana production and distribution system, that has been used as a model for newly legalized states. The problem many legal experts say is that employers understanding of medical marijuana and the workplace have not kept pace. Because marijuana is still a schedule 1 substance and federally illegal further blurs the line. Sadly only a handful of state medical marijuana laws outline worker protections in regards to medical marijuana. New Mexico law allows employers to establish policies aimed at keeping their workplaces drug-free.
Recent court rulings at the state and federal level have shown support for employers but state advocates say the time for more clarification in the state law is now. "People shouldn't be punished as long as there's no undermining of their ability to do their job or coming to work impaired," Says Jessica Gelay, a representative of the Drug Policy Alliance in New Mexico.
In Mrs. Smith's case her attorney argues that she more than satisfied all the requirements to obtain a medical marijuana card and that she served her patients in an exemplary manner and in an outstanding capacity. Now he claims her career is threatened by the termination.
Hospital officials would not comment specifically about the lawsuit but Joanne Suffis, senior vice president of Presbyterian's Human Resources department, said the company is committed to their patients safety and that maintaining a drug-free workplace is a key a component.
In a similar case filed this year a long time employee of the Metropolitan Detention Center was terminated for testing positive for marijuana. Mr. Augustine Stanley is an Iraq War Veteran who had a designation to use medical marijuana to treat his PTSD.