New Marijuana Song Hits The Weed Market
Posted by Marijuana Doctors on 11/02/2014 in Medical Marijuana Laws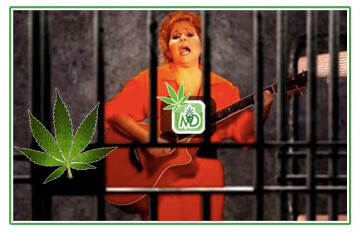 I recently heard the new Ellen Bukstel song called "Who's the pusher now".
A remarkable artistic demonstration that is, powerfully honest and brutally truthful, calling for the government to take a bow and admit that they are indeed the biggest drug pushers of all, getting us hooked on legal drugs while conveniently overlooking their subsequent overdose deaths. The prescription pill pandemic that is plaguing America is&nbsp killing millions of people, yet inhaled or ingested marijuana has no known record of overdose… The government however is determined to punish its people for using pot, while sneakily laying claim to all the cannabis patents ultimately proving medical benefit.
This straight-shooting song also shames the corporate money trail that is leaving upstanding citizens of our community incarcerated, while frankly shaming the governments hypocrisy that is funding modern slavery through the system of privatized prisons. Ellen candidly points out that prohibition made it clear, when you turn a market black, its hard to turn it back, and that these days our taxes pay the FDA so the DEA can put us away. This non-violent offense devastates families, destroys lives, and encumbers on the futures prospects of the individuals too, making it hard to find employment, or earn a decent income.
Like Ellen sings, the war on drugs is a political joke. But as marijuana continues to make its way mainstream and public understanding evolves, perhaps the end of prohibition is not such a pipe dream anymore. As more people succumb to the deadly addiction of pain pills, public awareness is growing and people are finally seeing the truth for themselves, and realizing that big pharma is really the real power behind the president of America. Its time policy changed to prevent lobbyist from swaying our legislature, and its high time that cannabis be rescheduled to recognize its medical potential and benefits.
Written by : JASON DRAIZIN