New Jersey Medical Marijuana Program Rears Its Ugly Head
Posted by Marijuana Doctors on 08/23/2013 in Medical Marijuana Laws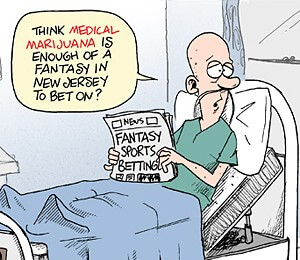 For New Jersey medical marijuana patients, prohibition 420 is still in full effect. The recently implemented garden state medical marijuana program has left patients longing for greener pastures, and has made legally obtaining medical marijuana anything if an absolute nightmare.
In Governor Christie's failed feeble attempts to keep marijuana out of the "wrong hands," he's made it nearly inaccessible for those patients carrying state-issued medical marijuana ID cards.
Christie has steadily relied almost exclusively on the input of state law enforcement consultants since 2010. In fact, the current head of the New Jersey state medical marijuana program, as personally appointed by Christie, is John O'Brien; a 28-year veteran of the NJ State Police Department. And the commissioner of the New Jersey Department of Health? His wife. If this all seems fishier than the Jersey shore to you, it's because it is. Not only is O'Brien privy to laws and over-regulations, but he has had no experiences nor comprehensive knowledge regarding healthcare and the benefits of medicinal marijuana.
The changes Christie has recently made to the state medical marijuana program have hardly been substantial or even beneficial to the population he's supposed to be appealing to. Most recently, Christie lifted a ban he'd placed on all Alternative Treatment Centers to offer more than three types of strains. However, his stance did not budge on the one regulation which has brought about the most controversy, the 10% THC cap on all marijuana sold in dispensaries. This arbitrary cap has left patients seeking out higher quality cannabis strains underground and on the black market, completely defeating the purpose of compassionate and safe access.
Over a year ago in a lawsuit filed against the New Jersey health department, a heated six-page letter written by Joe Stevens, CEO of one of the state's six medical marijuana dispensaries was sent to Governor Christie's office. The letter alleged that state officials were intentionally stalling the medical marijuana program in a concerted effort to sabotage it. And quite frankly, the point was hard to dispute when not a single center had been launched two years after the Compassionate Use Medical Marijuana Act was signed into law.
Governor Christie, who spoke on Steve Adubato's show on NJTV, outwardly stated that he would not permit the medical marijuana program to start unless the appropriate safeguards were made available. He said that this program, which had dogged his administration for over two years simply could not be in place until Greenleaf Compassion Center owner Stevens' would stop "dragging his feet" and failing to meet the program's requirements. These requirements, however, specifically for dispensaries, were completely unsolicited and unlike any other state laws. In turn, temporary permits and grow licenses which were promised, were greatly compromised and in Greenleaf's case, revoked. A spokesperson from the health department had no problem fully acknowledged that.
During a phone call, Stevens was told by O'Brien that he would be given approval for the preliminary permit, so long as he agreed to certain conditions such as an opening date agreement and final site inspection. Though the two had made a plan over the phone, Stevens said O'Brien retracted his promise. Greenleaf was asked to install security cameras and post security guards in a "nearby alleyway in Montclair," several buildings from the dispensary, to which Stevens' and his employees rejected, predominantly because the alleyway "is not under our control and is presumably public propert," Stevens said. Had Stevens' been opening any other store or pharmacy, these requirements would not have been implemented.
"I can no longer explain away these broken promises and stay quiet while Greenleaf continues to hemorrhage vital funds on a failed program," Stevens' wrote. He added that for the duration of Christie's time in office, he seriously doubted that the program would ever successfully run. Now, over a year later, dispensaries and patients alike are faced with the same issues.
Christie, on that same show, added that, "We (New Jersey) do not want to become Colorado or California." And further, that under no circumstances should New Jersey be polluted with dispensaries which care more about profit than they do about compassionate care. However, it's not the dispensaries we have to worry about.
Contrary to popular belief, obtaining a medical marijuana card does not keep patients above the law. In fact, there is little if any protection offered with the attainment of a legal medical marijuana card. Nationally, federal law rules, regardless of state implemented regulations. And under federal law, medical marijuana is still illegal. If federal law enforcers and DEA agents want to raid and rob dispensaries, they can. If they want to arrest individuals for possession of marijuana, despite their legally obtained prescriptions, they can.
54 year old New Jersey citizen and three time cancer survivor, Joseph D'Souza, legally obtained his state issued Medical Marijuana Program ID card over four months ago. He suffers from chronic pain as a result of his chemotherapy, radiation therapy and multiple surgeries. He has been living off of his disability checks, since he is no longer able to work. In his time since having his ID card, he has not been able to obtain his medicine due to the months-long wait at the only Alternative Treatment Center in the state. Caught with less than one gram of marijuana purchased outside of the dispensary, Joseph was arrested for the cannabis that belonged to the passenger in his car.
D'Souza now faces imprisonment and countless fines he cannot afford. During the time of his arrest, there were eight police cars surrounding him and drug dogs were brought out. Though he showed the police his ID card, it was immediately ignored.
Allen St. Pierre, executive director of the NORML foundation, has estimated that city dispensaries will have to keep their prices remarkably similar to underground marijuana prices; otherwise patients will feel more inclined to obtain their medicine illegally. This estimation was exactly what landed GreenLeaf Compassion Center in Montclair, NJ in hot water. The dispensary was inflating their prices and scaling back their inventory. Rather than a regular schedule, GreenLeaf opened once every two weeks catering to just a handful of patients. Then, after a two month complete close, the care center settled on only assisting patients in their immediate vicinity. And under Jersey state law, neither caregivers nor patients may cultivate their own medicine. This is, perhaps, the greatest flaw in the program. By forcing patients into Alternative Treatment Centers, it is virtually setting the medical marijuana program and its qualifying population up for failure.
"In three and a half years we've managed to get marijuana to about 125 patients. Long time activist, registered nurse and director of The Coalition for Medical Marijuana New Jersey, Ken Wolski said, "The program fluctuates between dysfunction and total failure."
Still, it is an undeniable fact that marijuana's secondary chemical component, cannabinoids have profound medical benefits. The highly exploitive nature of the plant, however, is in its classification as a Schedule I drug. Pharmaceuticals like Marinol, which is a 100% synthetic dose of THC, have been legally prescribed by doctors and can easily be picked up at any pharmacy counter. For more drugs like these to be discovered it would require further study of natural cannabinoids. Only then can synthetic replacements be invented. However, it is clear that the best interest of the patients seeking alternative medical treatment is not the top priority for New Jersey's medical marijuana program.
Delaware, Massachusetts, New Hampshire and Illinois have implemented medical marijuana programs nearly identical to New Jersey's. Similarly, the programs in other states are showing delays and additional extreme over-regulation. It is not unrealistic that state funded medical marijuana programs much like New Jersey's may be utilized as the perfect opportunity to conduct clinical research trials on cannabinoids. When it comes to legalizing marijuana for medical use in states such as these, ulterior motives are the name of the game, and if Christie's appointed officials aren't enough to convince the society at large of that, the testing of easily acquired government grown cannabinoids which patients can barely get their hands on is proof of that. Although marijuana remains a schedule I drug, synthetic replications would be perfectly legal – essentially, viewing registered patients as no more than guinea pigs.