New Hampshire and the New England Medical Marijuana Connection
Posted by Marijuana Doctors on 02/27/2013 in Medical Marijuana Laws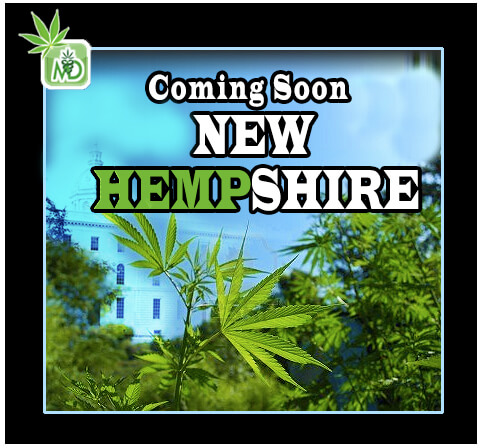 New England Posied to be Leading Medical Marijuana Region
The Granites State Seculsion as the Only 
Non-Medical Marijuana State in New England
Yup you heard right, New Hampshire is literally the last state standing in the greater New England area to approve medical marijuana laws in New Hampshire. This does not however, come without strong grassroot efforts from the Granite State residents. New Hampshire has already proposed House Bill 573, which mirrors similar marijuana laws to that of its neighboring states of Connecticut, Rhode Island, Massachusetts, Maine and Vermont.
Some news syndicates are reporting that New Hampshire will receive only around 1000 requests for the marijuana program in New Hampshire. Others, such as companies like MarijuanaDoctors.com have already reported that they have over 1600 patients on a waitlist that have requested additional information about the law and becoming a legal marijuana patient in New Hampshire.
COO John Nicolazzo says "Most states have inaccurate information, they speculate and with little to no actual facts to support their claims. We here at MarijuanaDoctors.com have the largest doctor network in the United States and with that, comes one of the largest patient networks as well" John says… "1600 patients is just the start, once laws are enacted, we see these numbers triple if not quadruple within the first few months of the new marijuana program being announced to the public"
New Hampshire Qualifying Conditions
Some of the New Hampshire qualifications for medical marijuana patients to become legal include "Cancer, glaucoma, positive status for human immunodeficiency virus, acquired immune deficiency syndrome, hepatitis C currently receiving antiviral treatment, amyotrophic lateral sclerosis, musculardystrophy, Crohn's disease, agitation of Alzheimer's disease, multiple sclerosis, or post-traumatic stress disorder."
One must speculate that with all of New England jumping on board to the medical marijuana program, what will the inter joining states come up with next? CEO Jason Draizin says "This is the first time that we see 6 bordering states all intertwined. This may be an opportunity for the Department of Transportation to step in and regulate interstate commerce laws for transportation of the medicine from state to state. Never before have we had so many interconnecting states with regulated medical marijuana laws and it will be interesting to see what the greater area of New England comes up with as far as the transportation laws"
All and all it seems like New Hampshire will be joining the rest of New England as a legal medical marijuana state in short time. The question is, will it be this year or the next? One thing's for sure, the last state standing may become the first state, for the beginning of a new medical marijuana era.