New Amendment Places Great Hemphasis on Legalizing the Miracle Crop
Posted by Marijuana Doctors on 01/31/2014 in Medical Marijuana Laws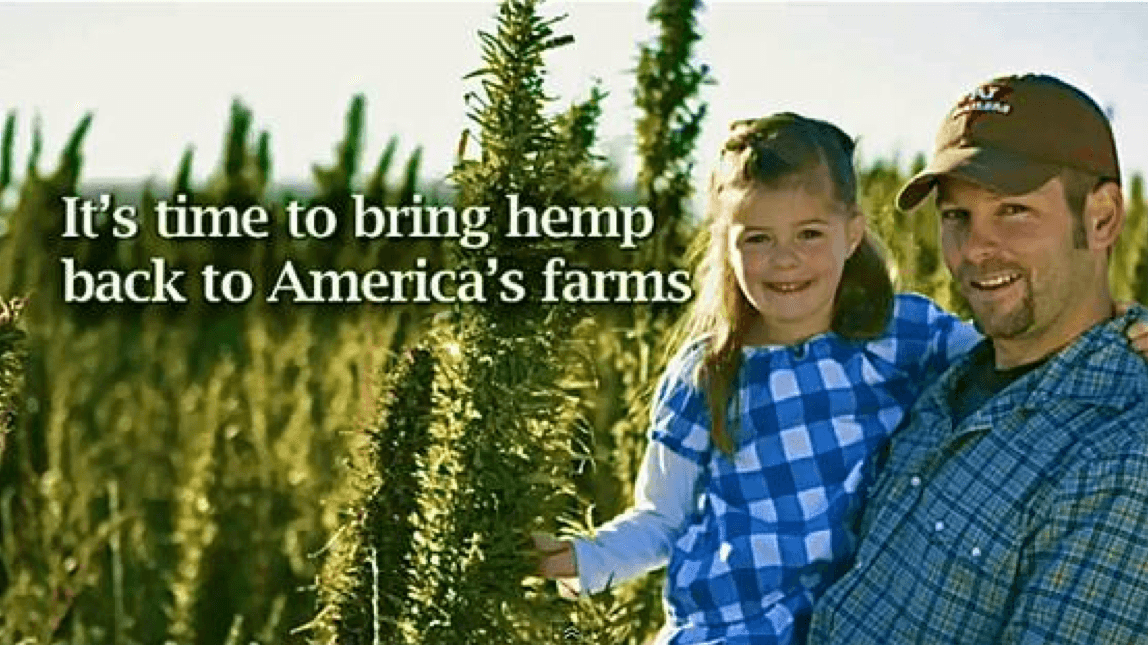 Just this past Wednesday, the House of Representatives approved a national farms bill by way of surprisingly, bipartisan means. The rather lengthy, two-year overdue 959 page farm bill will essentially work to stand behind 16 million jobs within the agriculture industry, singling it out as the only money-saving bipartisan bill to effectively pass through Congress in recent years.
The farm bill provision, Amendment .208 (A033) sponsored by democratic Boulder representative Jared Polis is described as follows: Amendment allows institutions of higher education to grow or cultivate industrial hemp for the purpose of academic research. Amendment applies only to states that already permit industrial hemp growth and cultivation under state law. The purpose of the Amendment, as printed in part B of House Report 113-117 is to allow higher education institutions to grow or cultivate industrial hemp for agricultural or academic research. However, as Polis added, the amendment should only apply to states that previously permit industrial hemp growth and cultivation by state law.
As it stands, nine states have currently permitted the growth and cultivation of industrial hemp. Hemp's legality lies in California, Colorado, Kentucky, Maine, Montana, North Dakota, Oregon, Vermont and West Virginia. Additionally, eleven other states have expressed interest in the cultivation of hemp. Bills have been proposed in Hawaii, Indiana, Nebraska, New Jersey, Oklahoma, New York, Tennessee, South Carolina, Washington, West Virginia and Wisconsin. Several states bills have been carried over from 2013.
Still, even in legal states, hemp is often imported from around the world, since growing or using it remains illegal under federal law. Unfortunately, this farm bill provision would not work to overturn this nationwide prohibition. However, Polis said, it will block the federal authorities from truly cracking down on hemp farmers, researchers and higher-education institutions throughout areas where the crop is legal.
The current hemp industry is dominated, almost entirely by China. Back in 2011, 11.5 million dollars worth of legal hemp products were imported into the US. The majority of the crop was converted to hemp seed and hemp oils. The modern production of hempseed oil is most often utilized in body and hair care products – lotions, shampoos and conditioners, balms and skin scrubs. Hemp seed is used in clothing, fabrics, bags, home goods, foods, paper and pet products. Essentially, hemp permeates not only American culture, but cultures around the globe. This seemingly emerging crop prevalent in today's society has a rich history in our growing world that is anything but modern.
The first hemp laws emerged in America in 1619. Ironically, because hemp was always in such high demand – the laws made it illegal NOT to grow hemp in America. In fact, if you were a farmer choosing not to grow hemp at the time, you could be faced with jail time or even exilement from the country with charges of non patriotism. With the dawn of the 1700's, bounties were granted in Pennsylvania, Virginia, New York, New Jersey, North and South Carolina and the states that comprise New England to boost hemp cultivation and production by manufacturing cordage and canvas. 500 tons of hemp was imported from Great Britain in 1770 alone, 34,00 tons were imported in 1800 and by between the years of 1820 and 1840, approximately 5,000 tons of hemp was imported annually. In the 1920's when alcohol prohibition was wildly popular, newspapers distributed throughout the country began running ads promoting smoking and using hemp. During its legality, over 80% of all medicines contained traces of hemp.
In 1937, with the rise of "Reefer Madness," the first law against hemp was passed. The Marijuana Tax Act made the possession or transfer of cannabis illegal throughout the nation under federal law. Due to common misconceptions, hemp received a bad rep as soon as Henry Anslinger, the head of the federal bureau of narcotics ran a campaign to drive cannabis right into the ground. Due to its absolutely minimal amount of THC, the same component present in its cannabis cousin, misconceptions about the intoxicating effects of hemp prevailed.
However, it is not uncommonly known that federal prohibition often tends to backfire in the faces of those who first enacted it. The US went on to receive hemp imports from Canada and the UK. Hemp, like cotton has been used for creating clothing: t-shirts, socks, paper, coffee filters, and the list goes on. Essentially, the two are unanimous with one another. The strength of hemp fibers far surpasses that of cotton. Unlike cotton, hemp is frost tolerant and able to thrive in all climates. Hemp requires no pesticides, where as cotton is sprayed with over 50% of the world's pesticides. Hempseed oil produces non-toxic diesel fuel, varnishes, paint, car parts, detergent, ink and lubricating oils. All in all, hemp in and of itself – is a wonder crop.
Of the newly proposed amendment, Polis said that Colorado State University has expressed great interest in being a part of hemp research, while the farm bill would let officials seek out grants, recruit faculty and set up labs worry-free of losing federal funding. This hemp amendment was only one of very few provisions added to the farm bill that was not previously approved by both houses of Congress. Supporters believe the bill's final version acceptance speaks volumes to the bill's overall importance.
Kentucky representative Massie, who introduced the bill noted that, "The inclusion of our industrial hemp amendment in the farm bill reflects widespread support for cultivating industrial hemp and proves Congress can work together in a bipartisan fashion to help the American economy at a time when creating jobs is a national priority."
Though the amendment was authored by Jared Polis, he had no reservations voting against the farm bill's legislation for its potentially severe negative drawbacks. The agreement would cut nearly $19 billion in farming programs, and prevent direct payment to farmers. Additionally, the bill would, for the first time, establish programs encouraging food stamp recipients to find jobs and further bars the USDA from utilizing funds to recruit beneficiaries or advertise on television, radio stations and billboards. Basing this policy strictly on past abuse of the program, USDA will ensure that lottery winners, college students, illegal immigrants and the deceased cannot receive food stamps. In order for citizens to quality for "heat and eat" benefits, states will need to pay more and the SNAP (Supplemental Nutrition Assistance Program) payments will be significantly reduced by approximately $90 per month for 850,000 households. The estimated finance cut of the national food stamp program is over $8.6 billion.
Polis said, "Although I strongly opposed the Republican Farm Bill, I was pleased to see that the bipartisan amendment that I offered with Representatives Blumenauer and Massie was included in the final bill that passed the House of Representatives today," Polis continued, "This common sense amendment will allow colleges and universities to grow and cultivate industrial hemp for academic and agricultural research purposes in states where industrial hemp cultivation is already legal. I look forward to working with my colleagues in the Senate to ensure that this language becomes law."
President of Vote Hemp, a nonprofit organization dedicated to overall acceptance of and free market for industrial hemp, Eric Streenstra said, "The American Farm Bureau Federation announced their opposition to the controlled substance classification of hemp earlier this month, and now passage of this amendment means America can get on track to once again become the predominant producer and manufacturer of hemp – one of the most versatile and ecological industrial crops on the planet."