Nevada State says "No Medical Marijuana Dispensaries Here!"
Posted by Marijuana Doctors on 03/25/2013 in Medical Marijuana News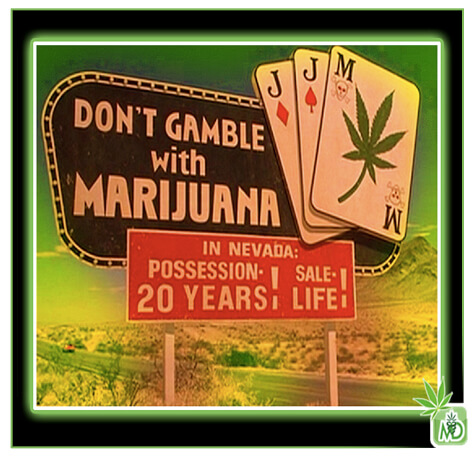 The American Civil Liberties Union of Nevada, an organization that works to protect the rights and liberties of all residents of Nevada through the lobbying of legislation and regulations, educating the public and litigating, has deemed the state's medical marijuana bylaw as "unconstitutional" because it does not allow patients with prescriptions for medical marijuana to legally obtain their medicine. A report was filed on Friday in a Clark County courthouse.
After Friday's report filing, this announcement comes the same day a contingent of Nevada legislators and high-ranking officials visited a medical marijuana dispensary located in Phoenix, Arizona, in order to get a better understanding of how Arizona has implemented it's medical marijuana laws into action. Arizona's medical marijuana program is one of the more strict programs, but has faced less scrutiny than other states' laws because of it's proper management and organizing.
In 2000, Nevada voters let the voice be heard in the form of an approval for medical marijuana to be implemented into their healthcare system. However, under existing laws, medical marijuana patients essentially have to cultivate their own medicine due to there being no legal way to obtain it through a dispensary, collective or wellness center. This is an ongoing problem among many patients and members of the medical marijuana community, as they believe that this is straying from the initial mission of trying to supply suffering patients with their proper medicine of choice.
Democratic Senator Tick Segerblom of Las Vegas has sponsored a bill that would authorize as well as regulate medical marijuana dispensaries. These medical marijuana dispensaries would be operating as non-profit and would service the 3,600 Nevadan medical marijuana patients who have already registered and received a medical marijuana card. With the hope that some form of establishment can come to the medical marijuana industry in Nevada, the Senator pushes on for approval on this bill.