Our Nation's Capital Set to Open First Medical Marijuana Dispensary
Posted by Marijuana Doctors on 03/26/2013 in Medical Marijuana News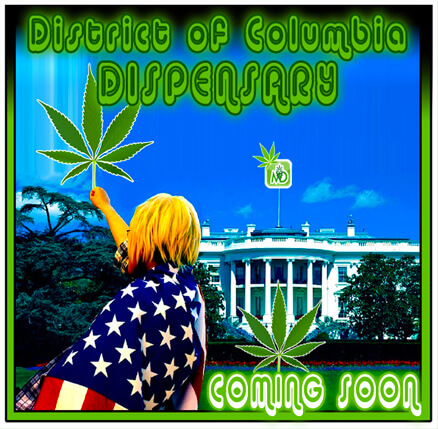 Capital City Care, the District of Columbia's first medical marijuana dispensary is finally ready to set up shop and start operating. Security cameras have been installed, all scales for medicine have been calibrated to the right specifications, and the windows don signs that declare "no returns." It appears that it's about time for Washington D.C. to welcome it's first canna-business into the industry.
The only thing missing from the shop currently is the actual medicine itself, medicine that David Guard, co-found and general manage of Capital City Care, deems a very "pure" and "potent" form of marijuana. The medical marijuana that will be supplied at this location is grown in a separate building that is located in Northeast Washington. According to District of Columbia regulations, plants must be in the ground cultivating for at least sixty days before they are harvested and ready to be distributed. Each facility in D.C. is limited to only possessing ninety-five plants at a given time. These regulations are strict yet necessary in order to maintain a state of professionalism and legitimacy in the nation's capital.
Capital City Care aims to be selling at least four strains of high-grade medical marijuana from it's North Capital Street location by sometime in Mid-April. Around that time, five more District-licensed medical marijuana dispensaries are set to open their doors.
The District of Columbia legalized medical marijuana back in 2010, but with the establishment of their collective, co-founder David Guard and his team of connoisseurs continue to walk a thin line in the nation's capital. According to federal law, the cultivation and distribution of marijuana is still prohibited, and the current Obama administration is not shy when it comes to tackling medical marijuana canna-businesses and shutting their doors indefinitely. In 2012 alone, DEA officials and law enforcement raided over one hundred medical marijuana facilities throughout the country.
However, the 41-year-old Guard understands that there is an immense level of risk in owning a business within the industry. Guard said, "You have to remember marijuana is considered a Schedule 1 drug. But our thought is – and we've given it a lot of thought – that we're doing this for the patients. It is a risk that we run, but we do have a very tightly run program." Guard is right, as the nation's capital certainly has a firm grasp on the industry in it's location, and will not tolerate any form of wrongdoings. Guard did not disclose what the start-up cost is of running a medical marijuana dispensary, but he did say that there was a total investment of less than one million dollars. With dispensaries acting as non-profit organizations, Guard understands that breaking even will not be an easy task for the company. However, for David Guard the opening of Capital City Care will be a years-long dream that began in 1998 when Washington D.C. voters voiced their opinion on a ballot referendum that called for the legalization of medical marijuana.
Currently, the District of Columbia allows patients who are suffering from cancer, HIV/AIDS, glaucoma and multiple sclerosis to be eligible to buy two ounces of marijuana for every thirty-day period. Although prices have not currently been set in stone, a quarter of marijuana is expected to fetch a price between one hundred dollars and one hundred and twenty dollars.