National Football League Alters Substance Abuse Policy
Posted by Marijuana Doctors on 09/18/2014 in Medical Marijuana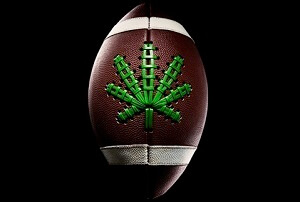 With the nations favorite sports league coming under immense scrutiny due to its players off the field actions, the National Football League has decided to re-examine, and re-vamp its player conduct policy, specifically its substance abuse policy. Part of what sparked the historic change in policy was the league's seemingly disproportionate punishments for those players caught using drugs such as marijuana, and those who had been involved in much more serious and in most cases violent off the field issues.
Public outcries regarding the leagues punishments for testing positive for THC, the active component in marijuana were swift and loud following the 1 year suspension of Cleveland Browns wide receiver Josh Gordon. The anger against the leagues draconian drug policies were magnified when Baltimore Ravens running back Ray Rice was initially suspended only 2 games for his role in knocking out his then fiancé in a February altercation in an Atlantic City hotel. Rice has since been suspended indefinitely by the league and cut by the Ravens.
Players will not have to test positive for 35 nanograms per milliliter of THC in a league issued urine test as opposed to the previously stricter concentration of 15ng/ml. However this 20 nanogram increase is much less than it may appear according to drug testing experts. As a matter of fact, 20 ng/ml means almost nothing to the technicians who are tasked with carrying out the tests. Dr. Daniel Lieberman, a psychiatrist at George Washington University was quoted as saying "I think 15 is low for the standard and increasing it to 35 is just fooling around with the margins,"
According to Dr. David Casarett, a physician with the University of Pennsylvania explained that the new change in allowable concentration is about the equivalent to dissolving a baby aspirin in one gallon of water. On the other hand, The World Anti-Doping Agency (WADA), the organization charged with conducting drug tests for things such as Olympics and Tour de France tests for THC at a concentration of 150 ng/ml, the equivalent of more than seven baby aspirins in that same gallon of water. If a worldwide organization whose sole purpose is to design and conduct drug testing procedures doesn't test for such a miniscule amount of cannabis why is the National Football League?
Ironically "the number itself is arbitrary because it depends when the urine test is given, relative to when the person smoked," explains Zica Cooper, a psychiatrist at Columbia University in Manhattan. Factors that can contribute influence the outcome of a test beyond a arbitrary number include; how much cannabis an individual has smoked, how long ago it was smoked, if they smoke marijuana regularly, their body composition, and chemical sensitivity of the test being used.
In Dr. Lieberman's view there is a deeper fundamental question regarding why the NFL is testing for cannabis at all, which he is quick to state is not a performance enhancing drug. He claims that if they truly wanted to adopt a contemporary policy that they would use the standards used by the WADA. "I don't think 20 nanograms means much qualitatively but it does say a lot in terms of what the NFL's stance is, said Cooper. "The NFL is entering this dialogue when so much attention is on the therapeutic effects of medical marijuana."
Players such as Josh Gordon, LaGarrette Blunt, Le'Veon Bell, Orlando Scandrick and Wes Welker will all have their current suspensions reduced if not eliminated and several other players across the league will be eligible to return to practice this week and be eligible to play this coming Sunday.