MPP.org Posts Pro-Marijuana Billboard at Denver Bronco's Stadium
Posted by Marijuana Doctors on 09/06/2013 in Medical Marijuana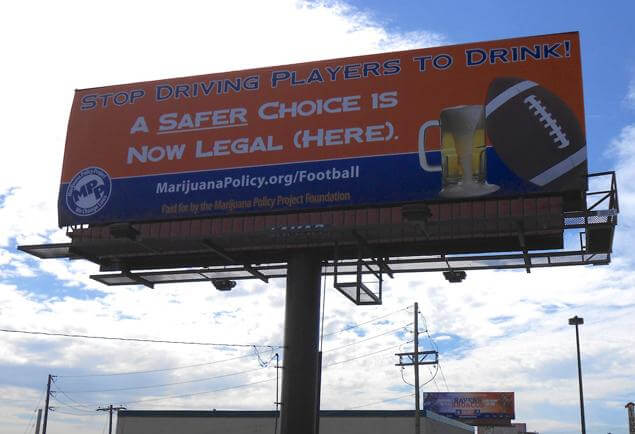 Pro-marijuana group Marijuana Policy Project has erected a pro-marijuana billboard in front of Sports Authority Field at Mile High Stadium, home of the Denver Broncos football team. The purpose of the billboard is to urge the NFL to reconsider its harsh rules barring players from smoking marijuana.
The billboard measuring 48 feet long tells the National Football League to "stop driving players to drink" while bringing the attention that Colorado and Washington have legalized the recreational use of marijuana. The billboard states, "a safer choice is now legal here".
Director of communications for the Marijuana Policy Project, Mason Tvert says that the coalition group has also launched a campaign petition at Change.org to persuade and convicne NFL Commissioner Roger Goodell to update the league's substance policy.
"For years, the NFL has been punishing players for using marijuana despite the fact that it is far less harmful than alcohol, a substance widely embraced by the league," Tvert said in a statement. "The league would never punish a player simply for having a couple beers, so why does it penalize them for using a substance that is less toxic, less addictive, and less likely to contribute to violence.
MPP.org decided to pursue this issue shortly after the NFL issued an official statment making it clear that the NFL dfid not plan to lessen the penalites for athletes that use cannabis even though Coloado is a legal cannabis state.