Mother Hails Marijuana As Miracle That Is Saving Her Son
Posted by Marijuana Doctors on 01/20/2015 in Medical Marijuana News

Since passing it's extremely regulated recreational cannabis program, Washington State, has experienced a significant shift, that has left its medical marijuana program largely unregulated, in comparison. Lawmakers in Olympia, are expected to review at least 3 bills in the upcoming legislative session, which could hopefully provide some clarity to the still uncertain areas of Washington state's medical marijuana program. Clarity that will be needed to prevent the medical marijuana dispensaries from being bullied out of town by the new-recreational kid-on-the-block, because medical marijuana dispensaries aren't required to pay taxes or deal with the same administrative dramas, they are fast losing popularity amongst their recreational counter-parts.
Amidst all this uncertainty, a group of parents have assembled and are circulating a petition to preserve the right to administer medical marijuana to their children.
Amongst these parents, is Tamsin Gebhart, who hails Cannabidiol (CBD), as a 'miracle drug' that is saving her son, Sam. Sam suffers from the rare and debilitating Mowat Wilson Syndrome, known to result in hundreds of seizures daily. Since starting her son on the CBD oil capsules, twice a day in his food, Gebhart says her sons seizures have almost stopped entirely. And Sam no longer suffers from the overwhelming and toxic effects of traditional seizure medications.
Sam's mother, Tamsin, says that this was not a decision that she made lightly, being that she herself is not a marijuana user. "We had a lot of mixed feelings from people when we decided to start this. But I was just at my wits end," she says. Many people including Gebhart's own mother were skeptical, but as she points out, the CBD oil is very low in THC, reducing much of the high generally associated with marijuana use. "It's the other drugs that were getting him high," she says.
Gebhart, says she too is looking for legal clarity in the upcoming legislative session, because without it, she fears that the company who is producing Sam's oil, Dama, could be forced to shut its doors.
"If for some reason it became illegal here, we would uproot our family and move," says Sam's mom, Tamsin. "The reality is, if we lose it, we potentially lose Sam." New Leaf Enterprises supplies Dama Oil to Gebhart and 30 families like hers, for free. These 'Leaf of Hope' families have been using the CBD-based cannabis oil to soothe the symptoms of epilepsy, autism and cancer, for more than year now, however the organization has said that if they are unable to sell their oil recreational marijua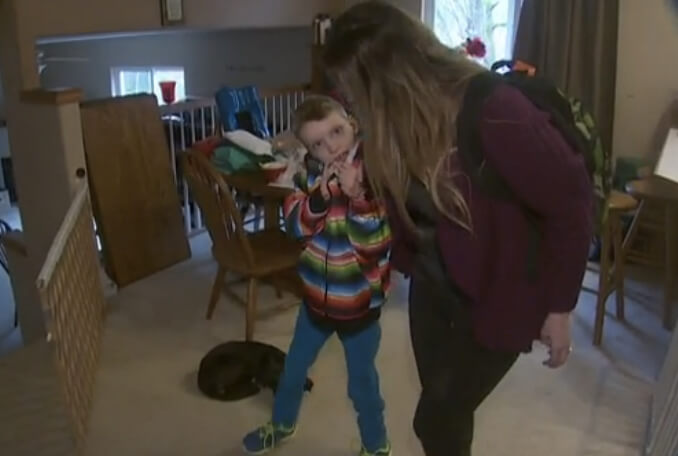 na shops then they will unfortunately be forced to ease operation by June of this year.
Jason Draizin, the CEO of  New York-based MarijuanaDoctors.com, an organization that helps patients in all 23 legal states find a marijuana doctor near to them, says that he hopes the review of the upcoming bills in legislative session will help shed some light on how the medical sector of marijuana can peacefully co-exist within the world of recreational laws, "Washington State, like Colorado, is a fore leader in this great movement, and helping define the path so that marijuana can be accessible medically and recreationally is one of its greatest tasks. By ironing out these details, they are making way for other states to simply follow forward in their historic footsteps. The more clarity that Washington State, and Colorado, can provide during this period, the greater the chances of other states following suit sooner rather than later."