Minnesotan Legislators Vote In Favor of Medical Marijuana House Bill
Posted by Marijuana Doctors on 05/09/2014 in Medical Marijuana Laws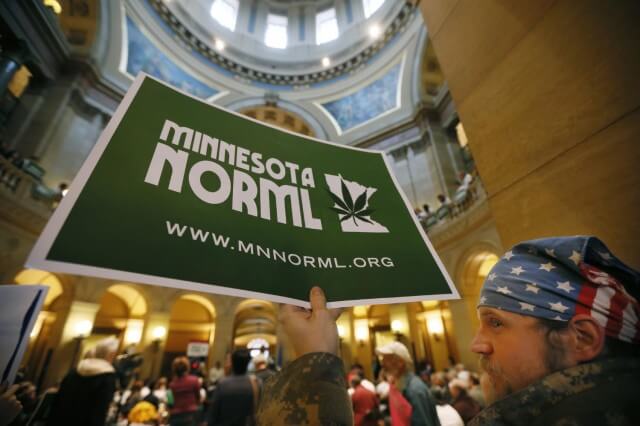 In a recently proposed legislation, senators approved a bill that would work to legalize medical marijuana in a bipartisan 48-18 vote. Unlike many states recently supported legislature limiting patients to strictly CBD oil, Minnesota's bill would allow patients suffering from certain debilitating conditions to utilize their medicine in pill form, topically, or by vaporizing the plant – still, smoking the marijuana would remain prohibited under the Senate or House bills.
Scott Dibble, a democratic senator and champion for the bill had been urging the approval of this measure for quite some time. What was driving Dibble's support? "In the name of compassion," he explained. "The name of having access to something that can make a real difference for the better for some people."
Dibble added, "Many doctors and other medical and health organizations have expressed support for my bill. We are working towards a compromise that both of our chambers can support."
Of course, and especially within the case of medical marijuana – there will always be naysayers. Republican Senator Bill Ingebrigsten stands in opposition of the bill. He noted that he felt Minnesota was, "taking baby steps toward legalizing recreational marijuana in the state." Forgetting, perhaps, that the comparison is much like comparing apples to oranges. Ingebrigsten formerly worked as a sheriff. In legitimizing his fears of Minnesota eventually going recreational, he pointed to Colorado and Washington.
Lawmakers and politicians who are caught up in concerns that medical marijuana can act as a gateway for legalizing recreational marijuana have clearly not seen the miraculous benefits medical marijuana can reap first-hand. Gaining safe access to medicine does not come with a hidden agenda, nor does it promote or condone recreational marijuana usage. Medical marijuana is, as it always was, medicine.
Under the newly proposed bill, as many as 55 dispensing centers would be established throughout Minnesota. At that point, the health commissioner would have the ability to approve further centers and add on qualifying conditions for more patients to be eligible for receiving medical marijuana.
Patients would be able to have up to 2.5 ounces of marijuana on them at any given time. As it stands, the margin of approval is high enough that it could successfully overcome a potential veto by Governor Mark Dayton who still has his reservations.
Dennis Flaherty, executive director of the Minnesota Police and Peace Officers Association has expressed his concern regarding the new legislation. "We're tremendously opposed to the Senate approach. The house bill is much different. In that bill, you do not get raw crude marijuana. In the Senate bill, patients are allowed to have 2.5 ounces of marijuana." The House bill would allow patients to obtain medical marijuana at only one state facility, which Flaherty greatly champions.



Cindy F. Smith, president of the physicians group, wrote in a letter, "Ideally, the approval of new medications for the treatment of serious conditions would remain within the scientific, not the political, arena." She added, "Given the options on the table, however, the MMA finds the House proposal to provide a more useful, measured approach."
Advocates and patients have spoken out against this rigidly structured measure. Several conditions, patients have said, leave them unable to consume marijuana in pill or oil form. They have shared anecdotes that smoking the plant provides immediate relief and does not require an expensive vaporizing machine. One Burnsville resident, Pat McClellan is forced to use a vaporizer for the treatment of his muscular dystrophy. "A vaporizer is cumbersome," McClellan said. "It takes both hands to use and the high-end ones, which don't break like the other ones, can cost $500 to $700."
Republican senators and the Minnesota Family Council stood in opposition of the bill. They made the argument that the FDA should approve marijuana's medicinal properties prior to Minnesota legalizing it. "If we're going to listen to someone who (just) says he's a doctor, why don't we rely on snake oil bloodletting and ever-popular leeching?" said Senator Warren Limmer during the debate.
Still, Minnesota patients suffering from such conditions as glaucoma, cancer, epilepsy, AIDS, multiple sclerosis and several other debilitating conditions remain cautiously optomisic about obtaining their medicine in due time.