Minnesota Office of Medical Cannabis Has Work Load Cut Out
Posted by Marijuana Doctors on 07/28/2014 in Medical Marijuana News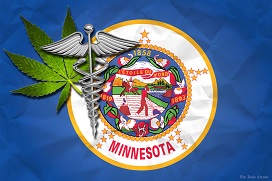 Location: St. Paul, Minnesota | Source: PRWeb
St. Paul, Minnesota – After Minnesota legalized medical marijuana for a limited list of diseases and debilitating conditions Dr. Marshall Brinton looked around at the space and equipment in his old veterinary lab and said to himself "Yeah, I could do that." The "that" Dr. Brinton is referring to is the growing of medical marijuana. With only two medical marijuana production facilities being allowed under Minnesota's medical marijuana program Dr. Brinton hopes to be one of those selected for the coveted production license.
Brinton, a retired veterinarian originally from the Willmar area, has aspirations of converting the lab where he once made vaccines for animals into one of the state's two licensed production facilities allowed to grow medical marijuana.
While the fight to legalize medical marijuana in the state was a long and arduous one the hard work is not yet completed. Now the state must begin implementing the medical marijuana program that its legislature voted into law earlier this year. Things that need are yet to be completed include seemingly boring tasks such as securing office space and office materials, to the absolutely essential such as the building of a computer system to register patients/monitor their medication. In addition, the Office of Medical Cannabis, which recently appointed its top official, must hire a research director to help ascertain proper dosages and place 8 working dispensaries across the state for patients to easily access.
Like our home state of New York, Minnesota finally passed medical marijuana legislation this year after years of failed pushes by advocates and pro-marijuana state representatives.  Under Minessota law patients must suffer from one of eight ailments including cancer, HIV/AIDS, and glaucoma in order to qualify for the program. Also like New York's Compassionate Care Act patients may only have access to either a pill, liquid, or vaporized form of the medicine.
The state plans on hosting a conference for parties interested in becoming manufacturers on August 8th with applications being accepted in early September. The two final manufacturers would be selected on December 1st of this year.
The architect for the state's program Manny Munson-Regala, assistant commissioner in the Minn. Department of Health told reporters that she used to be worried we would have no applicants, but that recently she has been contacted "by enough interested parties" that she feels comfortable the Department of Health will have some choices. Dr. Brinton has not yet contacted the state but has received an OK from the Willmar Planning Commission to use his lab to grow marijuana if he does ultimately receive a license from the state. He told local news reporters he plans to reach out to similar operations in Colorado in the hopes of finding a more experienced business partner.
Just last week Michelle Larson was named the director for the newly created Office of Medical Cannabis. In her previous post she was a deputy director in the department's Office of Statewide Health Improvement. According to PRWeb "A new task force to study the impact of medical marijuana in Minnesota is scheduled to meet on Thursday. Stacked with law enforcement officials, substance abuse professionals and soon-to-be patients, the 23 members will set the tone for how setup and oversight of Minnesota's new program will unfold.
One of four lawmakers on the task force, Senator Branden Petersen, said he and his colleagues were disappointed with the narrow and limited scope of the bill. He said him and his fellow advocates in the senate pushed for more dispensaries and qualifying conditions. Petersen, an Andover Republican, is concerned that the bill's passage will discourage lawmakers from retooling the legislation in the future if Minnesota's law proves too restrictive.