Is Miley Cyrus The Future of the Marijuana Brand?
Posted by Marijuana Doctors on 11/11/2013 in Medical Marijuana Legalization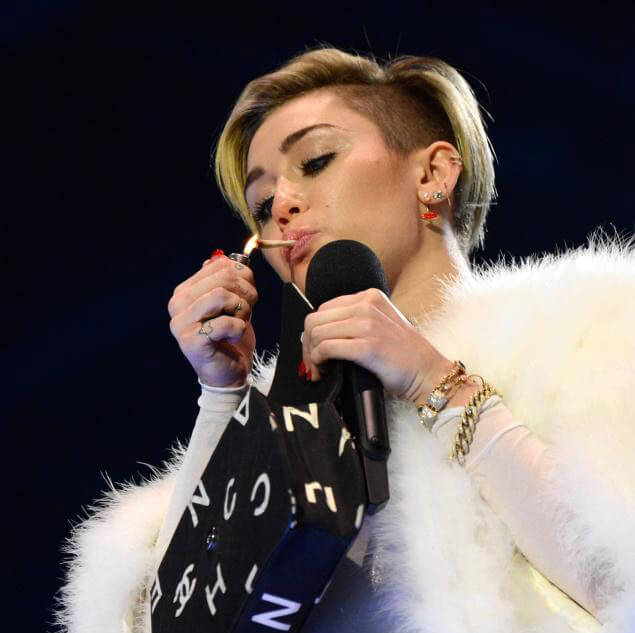 You can say what you will about Miley Cyrus (and by all means you know you undoubtedly will…), but if there is one thing that's certain, it's that you cannot deny the fact that she has turned herself into a cultural icon. It seems as if in just a three- month period, Miley Cyrus has turned the year of the Snake into her own personalized playground of self-expression and newfound advocacy. Not only is the twenty-year-old dominating the pop-culture landscape as well as the Billboard charts, but she is also displaying a defiant and profound luster that sets herself aside from most anyone these days. Just last night, Miley decided to draw her own boundaries again, this time by lighting up a big 'ole joint on stage at the MTV European Music Awards in Amsterdam.
Now stop me if this sounds like something you've heard before, but this shouldn't even come close to being considered surprising. Amsterdam is not only recognized for its popular Red Light District, but it is also a well-known destination for the most dedicated of cannabis enthusiasts — case in point: Miley Cyrus. Although within the last few years, drug tourism in Amsterdam and certain strains of cannabis that contain higher concentrations of THC have been challenged by the government in order to lead to a more restrictive approach. For example, in October of 2011 the Dutch government proposed a new law to the Dutch parliament that would place marijuana with 15% THC percentage or more onto the list of hard drugs.
Although to some people Miley may be leading herself down the same path that YouTube-sensation Justin Bieber is taking, there is a bigger picture that is not being recognized. While Dutch marijuana laws and regulations haven't stopped Miley from simply being Miley, this presents the idea of Miley wreaking havoc as one of the biggest advocates for marijuana to date. It seems that just when you thought that Miley could not have any more magical and jaw-dropping stunts up her skinny little sleeves, she decides pull a trick out of her hat that leads to viral exposure and worldwide recognition. Most actors, actresses and artists will accept an award with a speech that gives thanks to everyone under the sun — but not Miley Cyrus. That would be far too boring and wouldn't capture the true essence of what it is to be Miley.
Instead, before a viewing audience of millions and millions, Miley celebrated her Best Video Award by reaching into her Chanel purse and pulling out a Dutch-cone to light up and get the party started. The notorious gesture was an ode to the marijuana plant's semi-legal status in the host region of Amsterdam, and a sure-fire sign that Miley is too hot to handle (and yes, that means even too hot for MTV's European audience). If there is one thing that the industry could use, it is a celebrity advocate that can impact society on a profound level and garner an opinion from everyone who is everyone. The Medical Cannabis Network believes that Miley Cyrus could become the next face of marijuana, especially because she is considered one of the few notable members of society that can receive criticism from literally everyone (hint: the other member of society's last name is Obama).
The idea that marijuana isn't that big a deal and that the governments need to readjust its priorities is a pretty common thought that is expressed more times than you think. Recent polls have found that a majority of Americans think marijuana should be legalized and it seems as if marijuana is becoming increasingly popular among pop-culture. It's time for people to get with the present and it's time to reconcile the many different faces of marijuana. Maybe what we need is a jokey, pop-culture staple to market and advertise the potential cash crop of a bright, and very green future.