Medical Refugees in Colorado Forming New Bonds
Posted by Marijuana Doctors on 12/06/2013 in Medical Marijuana Laws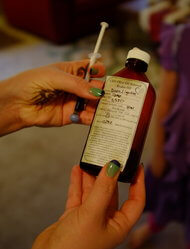 Increasingly, families from around the country are making the move out to Colorado in hopes of saving their children's lives. These families are arriving in Colorado years after a medical marijuana program has been established, and right in the midst of a recreational marijuana movement, since its vote last year. This year, for the first time, medical refugees came together for a bountiful Thanksgiving feast. Together, the families held hands and shared a prayer of thanks. They gave thanks for their dinner, their children, and for the cannabidiol oil that inspired their pilgrimage in the first place.
These families have traveled from South Carolina, Florida, Virginia and New York to gain safe access to a live saving legal-medicine.
Aaron Lightle, father to nine year old daughter, Madeleine, made the move to Colorado with his wife after the young girl's neurologists suggested they remove a part of her brain to stop her persistent seizures. "Thank you for bringing us together," Lightle said. "In crazy ways, maybe. But hey, we're here." In a nod of agreement, everyone said "Amen."
These brave refugees have left behind their jobs, and for some, other family members, where medical marijuana remains illegal. For the families that have left others behind, they gather together by way of skype video chats and facetime phone calls.
What's truly remarkable is the makeshift family these refugees have now formed. Coming from all walks of life, these people span all races and religions, liberal Democrats and conservative Republicans.
These families now work together – cooking meals for one another, babysitting each other's children. They gather together to discuss their children's progress, share their preferred ways of feeding the children their medicine, and they cheer one another on, supporting each other – awaiting the kind of success they've seen in news reports, videos and CNN medical correspondent Sanjay Gupta's documentary, Weed.
As of September, Colorado's medical marijuana patient registry has accepted 30 new minors, leaving the total number of young patients currently at 90 children. This data is provided by the Colorado Department of Public Health and Environment, which is the primary overseer of the medical marijuana registry program.
These refugee families have all traveled to Colorado for one reason: obtaining "Charlotte's Web" a CBD-rich, low THC strain grown by the Stanley brothers. The specially cultivated strain was named after Charlotte Figi, a six year old girl with a rare form of epilepsy known as Dravet Syndrome. The cannabidiol oil reduced her seizures from 300 a week to 2 a month. This kind of success is what has driven these families to embark on the life changing move for their young ones.
In addition to effectively treating epileptic seizures, CBD has also been found to stop metastasis in aggressive cancers and kill off cancerous cells found in leukemia patients. At this rate, the demand for Charlotte's Web is so high that the Stanley brothers who founded the Realm of Caring Foundation, an entirely nonprofit group dependent on donations for funding, can barely keep up.
The oil runs families between $150 and $250 for a one month supply. Some families have said they've recieved financial assistance from the Realm of Caring foundation.
"This is just the tip of the iceberg," said Colorado Springs pathologist, Dr. Margaret Gedde. Gedde has recommended medical marijuana for dozens of young children suffering from epileptic seizures. In a small survey she recently conducted, she found that of 11 families who had chosen to treat their children with CBD-rich oil, eight successfully reported that their children's seizures had declined by 98 to 100 percent. The other three families noted smaller, but remarkably noticeable declines. She and a co-researcher will present their findings next week to the American epilepsy Society."People will continue to come because it works. Patients are seeing between 50 and 90 percent reduction in seizures with no side effects. That's amazing," said Gedde.
During a Tedx talk that took place in Colorado, Josh Stanley, one of the brothers, said, "My brothers and I thought that this little-known compound might just be the missing link to provide some validity in the realm of cannabis research and as it turns out we were correct." Ironically enough, the strain they'd created for Charlotte far surpassed everyone's expectations for medical benefits. "Now the plant we had created, while it may be immense medical benefits, completely non-psychoactive…so we named the plant 'The Hippie's Disappointment' [but] it proved incredibly useful to Charlotte."
Two year old Piper Koozer was diagnosed with Aicardi Syndrome, meaning that the structure connecting both brain hemispheres is deformed or missing. The Koozers moved from Knoxville, Tennessee to Colorado to team up with the Realm of Caring organization in hopes of a special strain for their young daughter. Piper's mother, Anne, noted that since three months old, Piper was experiencing up to 400 seizures a day. "We really didn't have any other options," Anne said. About a month ago, Justin and Anne Koozer, Piper's parents, up and left for Colorado leasing an apartment and getting her cannabidiol oil recommendation.
Though Piper's seizures have not diminished entirely, her parents have reported that she is sleeping easier and longer, has fewer spasms now (as little as two or three per day) and seems more alert. In their new home, 1,300 miles away from the rest of their family, Anne has this to say: "We've probably seen the best five days of her life since we've been here, so it gives us a lot of hope for the future."