How Does Medical Marijuana Effect Employers
Posted by Marijuana Doctors on 07/25/2014 in Medical Marijuana Laws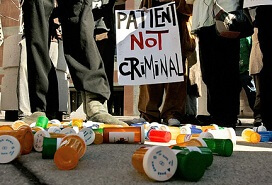 Location: Tri-State Area | Source: NatLawReview.com
Almost 20 years following California's legalization of medical marijuana, 23 states and the District of Columbia now have legislative laws permitting the use of medical marijuana for a host of debilitating conditions. Most recently, after many failed attempts, the state of New York legalized medical marijuana when Governor Andrew Cuomo signed the Compassionate Care Act into law on July 5th of this year.
Despite that marijuana laws are changing rapidly across the country and almost half the nation has some form of legalized marijuana, employers are still uncertain how to navigate the murky waters of what has become a new and dynamic work place. With most having passed their medical marijuana laws within the past 6 years many have not addressed work place issues that may arise from a patient's consumption of medical marijuana.
A new article recently published by NatLawReview.com by David Rosen, Galit Kierkut, Charles Kaplan, Grace Byrd of Sills Cummis & Gross P.C. analyzes current case law as well as aspects of New York's and New Jersey's medical marijuana bills to help employers navigate the changing times.
Comparison of State Statutes
State marijuana programs provide a varying degree of protection to employees who are also state medical marijuana patients. Only seven states, Arizona, Connecticut, Delaware, Illinois, Maine, New York, and Rhode Island, have laws that expressly prohibit employers from making certain employment decisions based on an employee's or applicant's use of medical marijuana. Amongst those states the statutory language used varies greatly.
The Compassionate Care Act requires employers to accommodate employees who use medical marijuana; these employees are considered disabled under the New York State Human Rights Law. Conversely the Care Act also permits employers to discipline employees who work while "impaired by a controlled substance". This language creates a variety of problems because under the Controlled Substances Act marijuana is still a schedule 1 substance. Also, under the Care Act "impaired" is not explicitly defined and additionally employers reserve the right to avoid violation of federal law or loss of a federal government contract or funding. These confusing ambiguities will surely make the Compassionate Care Act a topic of much debate and study over the next two years as the state program is rolled out.
New Jersey meanwhile sits on the other end of the spectrum in regards to medical marijuana patient protections; their law does not have statutory provisions outlining how employees who use medical marijuana should be handled. Employers are not required to accommodate medical marijuana patients and patients are not guaranteed any anti-discrimination provisions.
Developing Case Law
Recently an employee from New Jersey challenged his employer's treatment of him upon finding out he consumes medical marijuana. Davis v. NJ Transit was filed on March 14, 2014 and has been reported by some to be the first case involving an employee's use of medical marijuana in pursuant to the law, in the state.
In his lawsuit Davis claims that he uses medical marijuana to teat neuropathy in his lower extremities. He claims that he voluntarily disclosed his medical marijuana use to his employer, New Jersey Transit. As a result of his disclosure Davis was forced to take a drug test which ultimately came back as testing positive for marijuana. He was subsequently told that he may not hold any position at New Jersey Transit. Davis "asserted claims for disability discrimination, perceived disability discrimination and discriminatory termination/failure to accommodate pursuant to the New Jersey Law Against Discrimination ("LAD")." Employee litigation has been rising in states that have medical marijuana laws that are silent in regards to handling workplace issues. Plaintiffs are challenging employer decisions on various grounds including that their employer's violated public policy, state medical marijuana law, or that the employer did not accommodate an employee who has a legitimate disability in line with state or federal anti-discrimination laws. Sadly courts that are left to interpret these ambiguous laws have consistently upheld workplace rules and employer decisions regarding medical marijuana use on the job.
Guidance for Employers
State medical marijuana statutes have blurred the already gray lines of employee drug testing and related workplace policies. In states with medical marijuana statutes that do not address workplace issues, such as New Jersey, employers do not have specific rules to adhere to in regards to accommodating medical marijuana patients. As a result New Jersey employers have a stronger position for enforcing workplace drug use policies and disciplining employees who break these rules.
For employers in states that have outlined how to handle such situations it is extremely important that owners make sure that employee policies and practices are consistent with applicable state law.