Medical Marijuana in Alabama Next? AL Senate Committee Approves Marijuana Bill
Posted by Marijuana Doctors on 02/06/2014 in Medical Marijuana Laws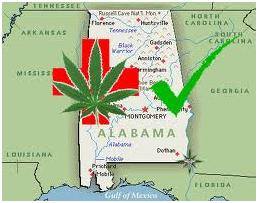 In what appears to be yet another historical milestone towards ending the prohibition of medical marijuana, this time we're diving down into the deep depths of the American South. I'm talking the Heart of Dixie, Sweet Home Alabama. Lawmakers took a huge step in one of the nation's most conservative states, as the Alabama Senate committee approved a bill that allows for the possession of marijuana-derived oil extract.
Where's the catch you ask? Well, while Alabama lawmakers only approved the possession of this extract for individuals who specifically possess debilitating medical conditions, the oil must additionally only contain cannabidiol, or CBDs. Cannabidiol (CBDs) is the chemical compound that is found within the cannabis plant, a component that has medicinal effects and value, but does not make people feel as if they are "stoned." In fact, some theorists have said that CBDs can actually counteract the psychoactive effects that are provided via THC, or tetrahydrocannabinol.
Primary supporters of the measure are the parents of children who have been diagnosed with seizure disorders. Seizures and epilepsy are both debilitating medical conditions that are far more complicated than one could imagine. It's not a "one size fits all problem," as there are many different types of seizures and each capable of affecting people in differentiating ways. The measure would allow parents and patients a justifiable defense if they happen to be charged with drug possession because of the CBD oil.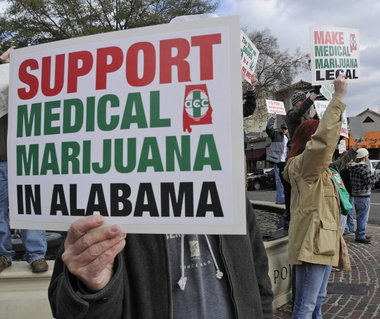 (Above: Alabama legislators have taken several cautious steps in the past towards a more sensible marijuana policy. This session, lng-time champion Representative Patricia Todd introduced HB76, a bill that would decriminalize possession of up to an ounce of marijuana. This bill would replace potential jail time and the acquisition of a criminal record with a fine only.)

Senator Paul Sanford, a Republican out of Huntsville, says that his piece of proposed Alabama marijuana legislation is separate from any previous efforts to legalize marijuana for medicinal or recreational purposes. Nearly a month ago, Sanford told an overflowing crowd at the Huntsville city council chamber meeting that he had offered to be the senate sponsor for the bill that was crafted by Representative Mike Ball.
The bill, known as Carly's Law, is named after a child that was born with a rare genetic seizure disorder. Reports have indicated this specific chemical component of marijuana for its effectiveness in reducing seizures when in oil form.