Massachusetts: New Ruling says Cities Can't Ban Marijuana Dispensaries
Posted by Marijuana Doctors on 03/21/2013 in Medical Marijuana Laws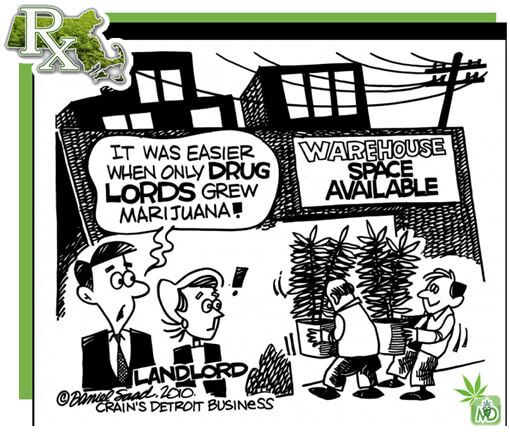 Early last Wednesday, Massachusetts State Attorney General Martha Coakley, ruled that cities and towns in Massachusetts cannot ban medical marijuana dispensaries due to this action being considered incompatible with state law. The only stipulation being that municipalities can use zoning codes and regulations as the only way to keep medical marijuana dispensaries contained within a certain area. A further discussion on this topic is expected to take place in the town of Medford in the near future, and along with this discussion comes a litany of opposing forces.
The Plymouth Board of Selectman, a five-member governing body that serves as the chief executive force of Plymouth, has taken a deeper look into the current bylaws of Massachusetts and has decided to wait until all regulatory guidelines have been finalized and published by the states' Attorney General before considering any potential changes to the bylaws. The powers and duties of The Plymouth Board of Selectman feature adopting policy directives, enacting rules and regulations to implement policies, and acting as the main licensing authority of the area. Current members of this prestigious political board are Mathew J. Muratore, John T. Mahoney, Sergio O. Harnais, Belinda A. Brewster and Kenneth A. Tavares.
Elected the Massachusetts Attorney General in the 2006 general election as a Democrat, Martha Coakley is the first woman in the history of Massachusetts to serve as the Attorney General. Coakley ruled at a town meeting last year in Wakefield that a zoning ban on medical marijuana dispensaries within the state would be clearly conflicting with state law and is now deemed prohibited. Coakley's decision to reject the Wakefield bylaw was mainly reinforced by her idea of the legislative purpose improperly being served and that if one specific municipality wanted to prohibit treatment centers, presumably all could do so.
One bylaw that Attorney General Coakley did approve was adopted in Burlington, Massachusetts and placed a moratorium on medical marijuana dispensaries, otherwise known as setting an extended period of delay to open shop due to a legal obligation. This bylaw was similar to one that was recently proposed in North Reading, and would temporarily prevent anyone from licensing a dispensary within town limits. The town of Reading voted in favor of prohibiting any future medical marijuana treatment centers within town limits in unanimous fashion, 113-39.