Massachusetts Growers Get Ready
Posted by Marijuana Doctors on 01/14/2015 in Medical Marijuana News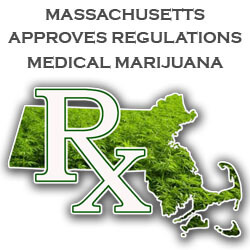 Although the voters of Massachusetts approved medical marijuana back in 2012, there has been little progress instituting a functioning State program.
At the same time, voters approved temporary legislation that required medical marijuana patients to nominate a caregiver – an individual who shall undertake to task of growing the medical marijuana on the patients behalf – however, this measure was only to be in place until such time as the medical marijuana dispensaries were officially ready to open and begin dispensing to State certified patients. To date, there have still not been any dispensary applications approved by the State, leaving the seedling of a medical marijuana program struggling to sprout roots and begin to grow.
Like a knight in shining green light, the New England Cannabis Conventions has stepped forward in the hopes of helping jump start the program. Cited as being Boston's first marijuana exhibition, the event, was founded by DigBoston's Jeff Lawrence and Marc Shepard, and was created to assist patients, and entrepreneurs alike, in understanding and circumnavigating the confused and disorganized mess that Massachusetts has made of its medical marijuana program so far.
Convention organizer and expert on the State's marijuana reform politics, Mike Cann says that there is a lot to point out, much of which doesn't make sense. According to Cann, the Massachusetts Department of Public Health piled on additional regulations demanding a 1:1 caregiver to patient ratio, once the referendum passed. "Can you imagine if a supermarket could only serve one customer? What kind of prices would that create?", says Cann.
Understandably many patients are being forced onto the illicit black market because they honestly can't afford to comply with the regulations so far. Cann also believes that as a result, many people may now be illegally growing marijuana as well.
"Really, all DPH did was expand the black market and make the black market prices go down. They made a lot of legal caregivers illegal," says Mike Cann, organizer of the New England Cannabis Conventions.
Following this logic – and in order to comply with it's 1:1 caregiver to patient ratio regulation – the State would have to approve 50,000 cannabis-growing operations to match it's 50,000 medical marijuana patients…
The New England Cannabis Convention – newenglandcannabisconventions.com
Castle at Park Plaza in Boston, Massachusetts
January 31 – February 1
Founder and CEO of New York based company, MarijuanaDoctors.com, Jason Draizin, is extremely pleased by the efforts of the New England Cannabis Conventions, not only because they are helping to kickstart the Mass. medical cannabis program, but also because Draizin went to school in Boston, and the city will always be one that is close to his heart. "The efforts of the New England Cannabis Conventions will most certainly help to guide the local people through the hurdles that the State has placed before them. The best way the State can address its nonsensical regulation requiring the 1:1 caregiver to patient ratio is to hurry up and approve the medical marijuana dispensary applications so that the patients can have safe access to their medicine, as per the vote of 2012."