Massachusetts Approves Final Regulations for State Medical Marijuana Program
Posted by Marijuana Doctors on 05/09/2013 in Medical Marijuana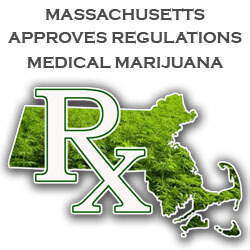 Public health officials have approved final regulations set in place for the use of medical marijuana in the state of Massachusetts in a near-unanimous fashion. This is a very positive win for the medical cannabis community within the New England area.
The vote that was held on Wednesday by Massachusetts' Public Health Council, paves the way for the recent voter-approved initiative to be turned into an enacted law. However, it will be at least several more months before the state of Massachusetts begins to open up medical marijuana dispensaries.
The regulations that were proposed would allow patients, who are approved for the medical marijuana program and have received a written doctor's recommendation, can receive up to ten ounces as a sixty-day supply. Other patients, who are more severely ill, can receive more with permission from their licensed physician. Those who are acutely ill must be evaluated by a doctor in order to determine their specified quantity of medicine.
The Massachusetts Department of Public Health has stated that they plan to serve licenses to up to thirty-five dispensaries, all of which will operate in specified areas.
To date, MarijuanaDoctors.com has been able to book and schedule over 946 medical marijuana patients, while appropriately maintaining a seventy-five percent qualification rate. The Massachusetts medical marijuana program started full operations on January 1st, 2013 and is considered an up-and-coming jumpstart for a potential New England green rush.
If you live in the state of Massachusetts and would like to obtain a Massachusetts Medical Marijuana Card, please read over the conditons and qualifications here. If you beleive you may qualify with a condition that is qualfied for the use of medical marijuana and would like to learn schedule an appointment with a marijuana doctor, please call (888) 392-9772.