Maryland MMJ Measure Headed to Governor O'Malley's Desk
Posted by Marijuana Doctors on 04/10/2013 in Medical Marijuana Laws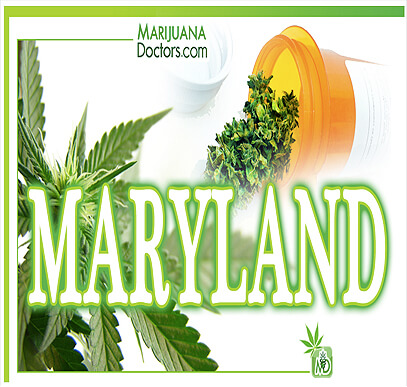 In an exceptional turn of events on Monday, the Maryland General Assembly approved a legislative measure that would allow medical marijuana programs to begin functioning at research centers that choose to participate. Although no current hospitals or medical health facilities have signed up to begin research and extensive studies, there are a couple that have inquired and have shown an immense amount of interest. Compassion is now only one step closer to being obtained in the state of Maryland, and the patients who have been suffering for years are now closer than ever before to a remedy that can alleviate their pain.
The Maryland State Senate approved the proposed measure by a near-unanimous ratio of 42-4 and the measure received an amazing response from state legislatures. Of the twelve Republicans that hold seats in Maryland's Senate, ten of them joined the thirty-two Democrats to favor the measure. Only two Republicans and two Democrats did not support this bill, but thankfully that wasn't nearly enough to stop it from passing. Where's the next stop for this bill? It's headed straight to Governor Martin O'Malley's desk, who indicated that he is highly likely to sign the measure into effect. When asked if he would sign it or not, O'Malley said, "I'd like to read it first, but I probably would."
Governor Martin O'Malley noted that his decision on whether or not to sign the bill would directly hinge on whether or not the measure includes provisions enabling the governor to suspend the medical marijuana program if the federal government decides to step in and prosecute state employees who administer the medicine. Thankfully, these provisions were included in the bill earlier this session, after Joshua Sharfstein, current Secretary of the Maryland Department of Health and Mental Hygiene, said he would only support the measure with those amendments. Sharfstein's change of heart had a big impact, as last year he expressed immense concern about potential federal prosecution.
Although still illegal at the federal level, Senator David Brinkley, a Republican out of Frederick County, expressed that states have moved forward despite medical marijuana violating federal law. Currently eighteen states have moved forward and legalized marijuana for medicinal use. Brinkley said, "At the same time, I think more and more as states start pushing the envelope on this thing, the federal government has to recognize that some of these cancer patients – some of these people that are very sick – you know, they're not doing this because they want to. They do feel that it's perhaps an element of last resort, and the last thing we want to do is criminalize who they are, why they're sick, that they're sick of their caregivers." Senator Brinkley proves an amazing point, and more politicians need to follow in his footsteps by recognizing that these people are truly suffering, they are not just looking for a way to get high.
While Maryland state analysts have projected that medical marijuana programs would not be up and functioning until 2016, it is noted that academic medical research centers have had a chance to look over all the details and fine print, and are taking a look at becoming part of the program. If academic research centers become part of the preliminary program, they will undergo strict monitoring and medicine would then be truly obtained through a medical facility. Personally, the passing of this measure and potential startup of the program through academic research centers is a big step, it really puts the "medical" in medical marijuana.
Although the passing of this measure is only a small step for Maryland, more steps are necessary for patients who are suffering to obtain the medicine they need to feel okay about their condition. However, I would take these small starting steps instead of no program being set up. This legislative measure would create a specified commission within the state health department to oversee all functions of the program.
Academic research centers and medical health facilities that participate in the program would be required to specific conditions it would treat and the criteria by which patients would be allowed to partake. These locations would also have to be able to provide state health department data on patients and caregivers on a daily basis to keep an extensive track record. Once all data is compiled, it would have to be readily available to state law enforcement as well.
Marijuana Doctors Recent Posts