Maryland Becomes 19th Medical Marijuana State
Posted by Marijuana Doctors on 05/06/2013 in Medical Marijuana Legalization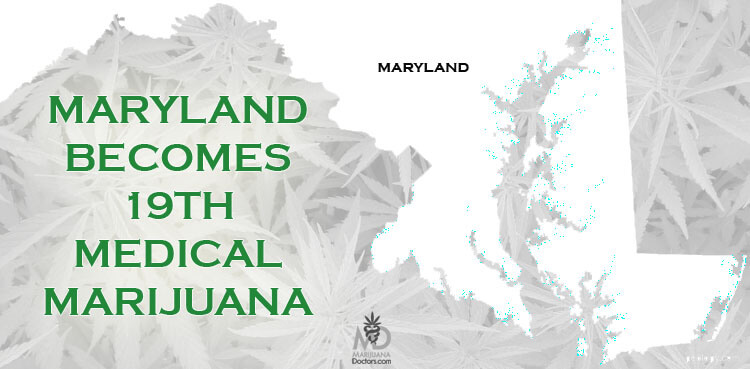 Maryland Governor Martin O'Malley signed a measure last week legalizing medical marijuana in Maryland under limited circumstances. The decision comes after a preliminary time period of wondering whether or not Governor O'Malley fully supported the language within the proposed measure.
House Bill 101, Maryland's Medical Marijuana Bill, was passed in April by the state's General Assembly Committee. HB101 would create a commission through which academic medical research institutions could apply to operate medical marijuana programs. Johns Hopkins University and the University of Maryland Medical System have respectfully declined to participate in the program, at least for now.
Last year, a similar piece of legislation to House Bill 101 was opposed by O'Malley's administration. The opposition was largely in part due to the rising concerns of the federal government getting involved and beginning to prosecute state employees who are involved in distributing medical marijuana to ill patients. However, patients who are suffering in the state of Maryland are happy to recognize O'Malley's shift in position this year. The shift occurred this year because no charges have been filed against state employees in other states who have set up medical marijuana programs, ensuring Maryland that their residents and trusting employees will not be wrongfully prosecuted.
Under the language of House Bill 101, the designated commission set up to run the program will be named the Natalie M. LaPrade Commission, a dedication for the mother of Delegate Cheryl Glenn who co-sponsors this measure. This commission would be an independent commission within the Maryland Department of Health and Mental Hygiene that is comprised of twelve members. Key members that make up this commission would be the secretary of the DHMH, three physicians, a nurse, a pharmacist, a scientist, a medical marijuana patient, an attorney who specializes in medical marijuana laws, and numerous representative of the state attorney's association.
Academic research institutions will be able to apply to the commission as well in order to distribute the medical marijuana that is grown by the federal government or state-licensed growers. Both of these entities or whichever one is chosen; have to be regulated by the commission under the language of this measure. The institutions would be required to monitor patients and publish the findings that they accumulate. The hope for patients across the state as well as across the country is to provide the government with beneficial findings that show the true medicinal value of marijuana. However, with this said, Maryland Marijuana Cardswill not be accessible through the recommendation of a Doctor like 18 other medical states. Marijuana Cards in other states are recommended by a doctor whom thinks cannabis treatment benefits outweigh the risks involved.
Although the program is not expected to be ready until someone around 2016, legislative analysts say it is unclear how many academic centers would be eligible or interested in participating at that point. Maryland will become the nineteenth state to legalize marijuana for medicinal use, although widely limited.
Marijuana Doctors Recent Posts