Marinol studies to provide insight to cannabis tolerance
Posted by Marijuana Doctors on 10/21/2015 in Medical Marijuana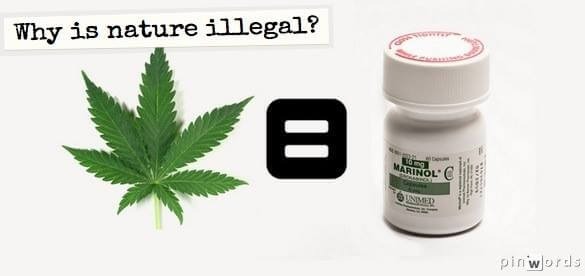 While the political class clamors on about "we need more research on cannabis" the truth of the matter is that we have a similar drug on the market, listed as a Schedule III substance, which can give us some indication to what cannabis would do to a person over time.
I'm talking about Marinol of course. This pharmaceutical imitation of cannabis is in fact 100% THC and unlike cannabis, contains absolutely no CBDs in it. In other words, if we're talking about
the side effects of the psychoactive nature of cannabis, Marinol would be a perfect case study to illustrate what "THC" alone does to the consumer.
It is important to note that CBD counteracts the psychoactive properties of THC, and thus if you were to consume the plant by itself, it would have "less of an effect" on you than Marinol would.
Marinol and THC Tolerance
One thing that you often hear about Prohibitionists is that "we don't know what cannabis will do to people over time", however, when the natural properties of cannabis is converted into pill form, suddenly all of those qualms disappear.
More importantly, prohibitionists tout that the "weed of today" is much stronger than the weed your grandfather smoked. However, when it comes to Marinol, there is 100% THC in the medication without the counteractive properties of CBDs which counteracts the psychoactive nature of THC.
So, when scientists gave patients incremented doses of Marinol to see what happens to users, they found that tolerance builds up pretty quickly. You can see all the results here: Marinol Tolerance Study.
Essentially, by day five the user has developed a tolerance and according to Marinol, would be able to drive and operate heavy machinery. Yet somewhere down the line the same doesn't apply to cannabis, which can only make one scratch his or her own head in confusion.
When you take the pure psychoactive part of cannabis, somehow you are better off than taking it in natural form?
Contradicting themselves until the "cows come home"
This is what is written about Marinol for patients:
Patients receiving treatment with MARINOL® Capsules should be specifically warned not to drive, operate machinery, or engage in any hazardous activity until it is established that they are able to tolerate the drug and to perform such tasks safely.
The question then remains, if patients can drive under the influence of Marinol just fine, why are prohibitionists so worried about cannabis legalization as a whole?