Should Marijuana Be Reclassified To Show Medicinal Benefits
Posted by Marijuana Doctors on 11/03/2014 in Medical Marijuana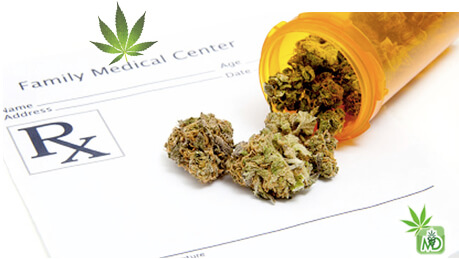 Although politics has left pot imprisoned with the shackles of prohibition, cannabis has been used medicinally for thousands of years in areas all over the world. And despite the criminalization of marijuana leaving it to fall from medical favor for a time, its overtly apparent as each new state passes medical marijuana laws that those views, are as antiquated and out of date as the ideals of prohibition itself. And while circumstance surrounding cannabis remains complicated, there are a lot of people worldwide seeking comfort in its ability to control pain, nausea, and seizures, amongst other symptoms. As such physicians are once again heralding marijuana as the medical marvel that it is.
Emeritus Professor of Anaesthesia Laurence Mather, from the Northern Clinical School at the University of Sydney explains that cannabis's therapeutic benefits emanate from the way that it stimulates the body's own method of making us feel good.
"The endocannabinoid system in the body is not a pain relieving system like the endorphin system, like for morphine-type things, it's more a general wellbeing system, and it works by making people feel more comfortable with themselves," Mather says. "It doesn't ablate pain, it makes the body more accepting." Marijuana has shown evidence of helping with specific kinds of pain that have not responded well to conventional medical treatments, like opioids and non-steroidal anti-inflammatory drugs (NSAIDS). And while marijuana would most probably not provide any pain relief to post-operative patients or those with acute pain such as from a surgical incision, it has shown considerable promise when treating 'neuropathic pain', pain that stems from diseased or damaged nerves. Providing its patients with a level of comfort in spite of their dis-ease.
Marijuana's powerful ability to stimulate the appetite has also proven most useful in counteracting the body wasting associated with a range of diseases from cancer to HIV/AIDS. "That was observed back in the '60s and '70s, particularly by the recreational users of the time … they noticed the incidence of weight gain was more favourable in those that used cannabis than others," says Mather.
While THC is the most widely and famously known of the cannabis cannabinoids, it is not the only part of the plant proving to beneficial in the medical sphere. There are now drugs available for the treatment of muscle spasms associated with multiple sclerosis, that contain both THC and CBD.
Cannabis is also being investigated as a possible treatment for psychological disorders such as post-traumatic stress disorder, given its potential to alter a patients mood, thinking and behavior. A recent study was conducted in the US, finding a 75% reduction in PTSD symptoms, with the use of medical marijuana.
Support for the use of cannabis to treat severe childhood epilepsies, like Dravet's syndrome, is also growing as parents of these children share their anecdotal evidence showing a drastic decrease in their children seizures.
Marijuana is also a safer alternative to the addictive medications offered by the pharmaceutical pushers in palliative care. "The side effects of many things that are used for treating these conditions such as heavy duty pain and things of that kind – treating them with opioids or treating with NSAIDS – are far more dire than they are from cannabis," says Mather. "People can die from morphine, they stop breathing; people can die from paracetamol because it buggers their livers, people can die from NSAIDS because it buggers their kidneys, but cannabis doesn't do any of these things."
Unfortunately, however, medical cannabis still presents a conundrum for the medical community because it still remains illegal under federal law, and until the federal government finally reschedules cannabis to either a 2 or 3 – it is currently cited as having no medical benefit and is categorized as a Schedule 1 controlled substance, along with heroin – medical professionals will not be allowed to definitively test and study the medical benefits of marijuana.
Professor Ian Olver, head of the Cancer Council Australia, says "If you've got a patient who's been through conventional therapy and has not responded, you're sympathetic to them if they find something that's worked, but that's quite different to saying something should be widely available for everyday use of pain," he says.
Jason Draizin, CEO of MarijuanaDoctors.com says, "The days of pretending that medical cannabis does not deserve its place in medicine are long over. Medical marijuana is providing relief to patients worldwide, from cancer to HIV/AIDS, from epilepsy to multiple sclerosis. Every patient enduring the horrors of disease deserves the right to choose the best and most effective way to help ease their suffering. Now more than ever the federal government needs to reschedule cannabis so that the medical community can start to fully understand all the potential benefits that this plant has to offer, and provide safe access for the patients that would benefit from this medicine."