How Marijuana Prohibition Created K2 "Spice"
Posted by Marijuana Doctors on 08/03/2016 in Medical Marijuana News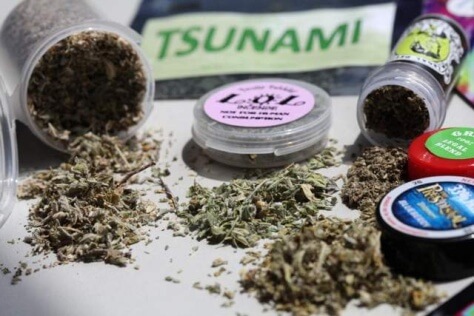 For a period of 11 hours, thirty-three (33) people were reportedly roaming the streets, of Brooklyn, New York, in a near zombie-like state, before collapsing on the sidewalks, as the result of an apparent mass "synthetic marijuana" K2/Spice overdose, recently. Fortunately, there were no fatalities — this time. However, for a period of more than 11 hours, the fire department and emergency responders had their hands full with the chaos that unfolded, says New York City Police Office of the Deputy Commissioner Detective, Ahmed Nasser.
There has been a significant rise in the use of these "synthetic imitations of THC", which does not contain any cannabis whatsoever. "Spice" has been around for several years now, and while the initial release of this drug was hailed as the "legal alternative to marijuana", people quickly realized that it was nothing like marijuana at all.
Smoking the substance has a quick onset and often times leads to rapid heart rate, anxiety and more. Chronic use has been shown to have a negative effect on the kidneys, and there have been a number of fatalities, as a result, through the years, while mixing Spice with alcohol can also lead to deadly side-effects. Nonetheless, there has still been a considerable increase in it's popularity and use, over the years, ultimately resulting in scenes like the one mentioned above.
The Origins of K2 / Spice
The original marketing ploy of K2 focused on promoting the product as a legal substitute for marijuana, and as a result of the harsh laws surrounding cannabis, the tactic worked. And, since the "high" of Spice "mimics" that of cannabis, according to the publicized claims of manufacturers, people were willingly coaxed into trying the untested and unregulated drug, composed of a number of chemicals, often purchased in countries, like China.
After the initial spice bubble burst, as people ended up in hospital emergency rooms, the availability of the drug began to die down, however, up until that point, you could buy K2 just about anywhere, from convenient stores, to smoke shops, and even gas stations. Nowadays, many states have passed laws declaring the drug illegal, however, there are still a number of states, that have no legal regulations in place, as of yet.
As mentioned previously, K2 was cunningly marketed as an "alternative to marijuana", as a result of the severity of the War on Drugs. But the truth and fact of the matter, is that responsible adults all need to blow off a little steam from time-to-time, whether is a drink after work, or joint — individuals want to get high, regardless whether it is legal or not. However, when given an option to do things on the "up-and-up", people would much rather prefer to get high without fear of arrest or prosecution.
Thus, when K2 hit the market, people finally thought they had found the means to alter their states of consciousness, without having to worry about law enforcement.
Thus, it can be deduced that K2/Spice was created as a direct result, of the prohibition of drugs. The question we need to ask ourselves is, "if cannabis was never made illegal, would K2 have existed at all?"
There are two motivating forces at play in the popularity of K2. The first being the fact that adults like to get high, whether by means of alcohol liquid drugs, or plant based drugs such as cannabis. The second important factor at play, is the fact that American people value their liberty. K2, was strategically positioned in between these two factors, in order for it to have become what it is now, today.
Nevertheless, whether you call it K2 or Spice, it is a dangerous drug with the ability to cause serious damage to an individual's physical, and mental health. At the end of the day, don't try to fix something that ain't broken — if you want to get high, good-old natural cannabis is still the best choice on the market, both legal and illegal.