Marijuana Is the New Beer
Posted by Marijuana Doctors on 07/26/2013 in Marijuana Politics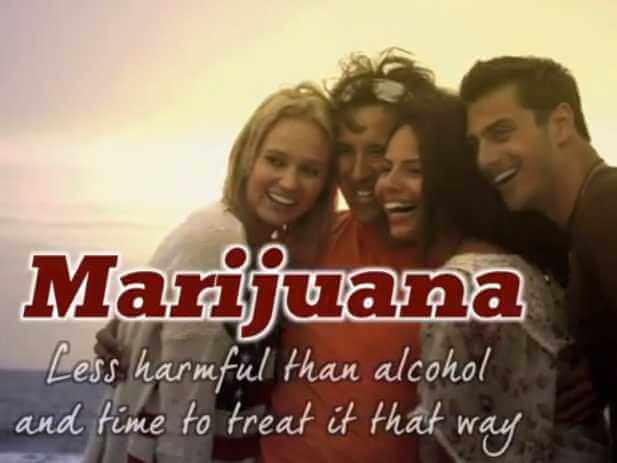 Fans attending the NASCAR Brickyard 400 in Indianapolis this weekend will be treated to a 30 second advertisement that, at first glance, appears to promote a zero-calorie beer. Playing on the Jumbotron just outside of the motor speedway, the short promotional video is targeted to a specific crowd, beginning with the words, "If you're an adult who enjoys a good beer, there's a similar product you might want to know about."
This mystery product is zero calories, for those watching their weight, and has no serious health problems attached, which is great for, well, everyone. Even better, this similar product is less harmful than alcohol and leaves its users with no hangovers. And while it is not linked to violence or wreck less behavior, overdosing isn't even an option. So, what's the catch?
It's fully sponsored by the Marijuana Policy Project, our nation's top marijuana legalization advocacy group. And they've paid big bucks to air this video dozens of times over the course of the weekend. This is notably the first time a pro-marijuana legalization ad will be played and displayed outside of a major sporting event. This year marks the 20th year of the Brickyard 400, and it is regarded nationally as one of NASCAR'S largest races.
Marijuana's catchphrase? "Less harmful than alcohol and time to treat it that way." Its been critiqued as not only a pro-marijuana advertisement, but an anti-alcohol one at that. The ad, cleverly titled, New Beer, is seemingly poking fun at alcoholic beverage commercials; or worse, bashing it entirely. This video features all the downfalls of alcohol as we know it: beer bellies, "that girl," who's had a drink too many and inebriated women abusing-husbands with their fists in the air and wives with their head in their hands. Surely, beer sales will skyrocket all weekend during the event, expected to be one of the biggest in the history of NASCAR.
The video concludes with that same catchphrase laid over some stock footage of a group of happy, and presumably high friends smiling on a beach while the sun sets. Mason Tvert, director of communications over at the Marijuana Policy Project, said in regards to the advertisement that their goal in creating the video was to make the weekend's event as educational as it is will be enjoyable. "We simply want those adults who will be enjoying a beer or two to think about the fact that marijuana is an objectively less harmful product."
Although marijuana is not legal in Indiana, for either medicinal or recreational use, and has, in fact, rather strict laws and penalties, Tvert says the main reason they will be airing this ad is to educate and encourage people to get behind the wider legalization movement. With upwards of 600,000 fans attending the three-day-weekend event, this ad is sure to get some double-takes.
The Marijuana Policy Project purchased this ad space from Grazie Media for a non-profit rate of $2,250. With an expendable budget around 400 dollars, Mason and two staffers created and filmed the video in three days. The ad is scheduled to play 72 times over the course of the weekend. J. Douglas Boles, president of Indianapolis Motor Speedway, announced that the track has no affiliation with Grazie Media and the ad is neither on track property, nor "…on property over which we have any control."
If you're wondering how NASCAR feels about this, they've declined to comment in regards to the advertisement, but have stated that they have no affiliation with the Marijuana Policy Project. The ad will not be appearing in the privately-owned stadium, but rather just outside its entrance.